Playing for pride, who wins?
On Form
Philadelphia Union:
He's been the main man all season, and shows few signs of slowing down. Frenchman Sebastien Le Toux's impressive offensive production (11 goals and 10 assists, the only player in MLS with double digits in goals and assists, most total offense, most shots on goal) has made him an object of adoration on the River End. Goalkeeper Brad Knighton has been received warmly in Chester, allowing just a single goal in 202 minutes of league play. Former starter Chris Seitz had been averaging 1 goal allowed every 51.5 minutes. 19 year old youth international Amobi Okugo has started to earn some starts with his play in midfield.
Chivas USA:
While the Goats failed to produce a definitive opportunity on offense against Kansas City, the midfield struggled with possession and the defense were schooled by Kai Kamara, the squad played earnestly for 90 minutes in front of their home crowd. The Goats were simply the lesser team on the night. They can find solace in defeat because of the improvement that has taken place on the squad compared to the beginning of the season. Mental errors were minimized, and Kansas City did not get their first shot on goal until the Kamara goal. Early on in the season, Chivas USA struggled with the mental aspect of matches, but defeat notwithstanding, the Goats rose to the occasion in a must-win situation and came up short.
Off Target
Philadelphia:
He may be the pundits' choice for Rookie of the Year with an impressive seven goals, but Danny Mwanga is in the midst of a dip in form. The rookie phenom hasn't scored in any of his last five matches, with his most recent tally against Colorado almost six weeks ago. Cristian Arrieta, an automatic starter earlier in the season, has been relegated to the bench. The former USL-1 MVP hasn't made an appearance since the Union's 3-1 loss to FC Dallas on August 8th. Keeper Chris Seitz may soon be on his way out of Philly, having failed to keep a clean sheet in 22 games and losing his starting spot to Brad Knighton.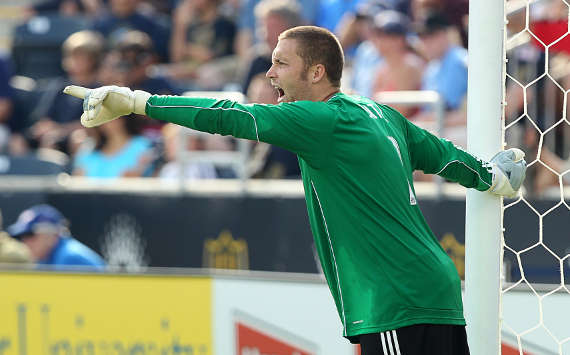 Chivas USA:
The Goats strikers are incompatible when paired with one another. Justin Braun has been the team's most consistent weapon, but the issue all season has been in locating a partner for him. Maykel Galindo, Maicon Santos, Jesus Padilla, Sacha Kljestan, Chukwudi Chijindu, Giancarlo Maldonado, and Alan Gordon have failed to convince in tandem with Braun. This has prompted Vasquez to use Braun as a winger due work rate more than his speed, but doing so has left an even larger gap up front.

Tactics
Philadelphia:
Injuries have created some selection headaches for Peter Nowak. Eduardo Coudet is unlikely to feature with a calf strain, while Le Toux, Mwanga, Juan Diego Gonzalez, Toni Stahl, and Stefani Miglioranzi are all coming off injuries. With the playoffs unlikely at this stage, some younger players like Jack McInerney, Amobi Okugo, and Roger Torres could see some significant time.
Chivas USA:
The Goats will attack with a 4-4-2 and hope to avoid conceding an early goal as they did in their previous encounter against the Union. Expect to see the industrious Braun-Gordon combination up front, with a possible start from Sal Zizzo on the right side. Another option is for Padilla to start on the left with Rodolfo Espinoza switching to the right, but this would leave the bench thin on attackers.

Intangibles
Philadelphia:
Both clubs find themselves unlikely to be participating in the post-season, and some players will now be playing for their places in the teams. That means that we might see some inspiration from some unlikely sources. Philadelphia has a young group, eager to make an impression, which could work in their favor against Chivas USA.

Chivas USA:
Vasquez will continue to preach that the squad has a chance at the playoffs, while Philadelphia will play in front of a raucous home crowd.

Outcome
Philadelphia:
Despite last week's loss to San Jose, Philadelphia has been playing well recently, and especially at home. If Chivas are already looking ahead to next week's Superclasico against Los Angeles, their last meaningful match of the season, I can see the Union pulling out a 2-0 win here.
Chivas USA:
Philadelphia Union 3-1 Chivas USA: With a tough defeat in front of a home crowd, the Goats will not be able to muster the type of effort necessary to win a match on the road, Philadelphia in particular. The Goat's defense has looked frustrated as the offense has been maddeningly inconsistent from week to week.
Click here to follow the Goal.com Twitter feed and join Goal.com USA's Facebook fan page!