Philadelphia looks to correct offensive woes at their final home game for over a month, with Chivas USA intent on tightening up at the back.
On Form
Philadelphia Union
: A 0-0 result is certainly not what you want to see on the scoreboard as you head into the locker room. But a 0-0 draw does mean you shut the other team out, right? The Union defense shut out an opponent for the fourth time at home this season. Sporting Kansas City registered just one shot on goal the entire game. Because of their stellar play at home this season, some teams look to be satisfied with playing for the draw.
Chivas USA
: Coach Robin Fraser asked media to leave the locker room for five minutes following the 2-1 loss to FC Dallas last week so that he could have a word with his team. Despite not losing any players for the Gold Cup, Chivas USA has only one win in the last six matches, with the team performances not quite clicking the way they were the month prior.
Off Target
Philadelphia
: The lead into this portion says exactly what is wrong with the Union offense and their shot attempts lately: off target. It certainly is not due to a lack of effort. In the last three games, the Union has registered fourteen shots on target, but has just one goal. The Union are tied for last in the MLS in shots on target for the entire regular season. To stay atop the Eastern Conference standings, more shots are going to have to hit the back of the net.
Chivas USA
: For Dallas' winning goal, Michael Lahoud allowed the ball to bounce past him in the box without clearing. It should have been a simple clearance. For an ex-defender, such needlessly conceded goals must rankle Fraser.
Tactics
Philadelphia
: Attempting to predict what lineup manager Peter Nowak will employ going into a game is like trying to predict the Cash 5 lottery numbers with just four numbers; you're going to be wrong no matter how much effort you put into it. Nowak released a 4-1-3-2 formation for the first time all season, along with a multitude of midfielders on the bench. While the defensive formation remains the same, the midfield continues to be shuffled around week to week. Forward Carlos Ruiz returned from Gold Cup play for Guatemala, which reunited the traditional forward duo of Sebastien Le Toux and Ruiz. With a scoreless effort, and having played just 72 hours prior, a more traditional setup would be likely.
Chivas USA
: Ahead of this match, Fraser has stressed organization and patience. The team will want to avoid the silly mistakes which cost it a win against Dallas, so expect a fairly cagey formation looking to hit out on the break.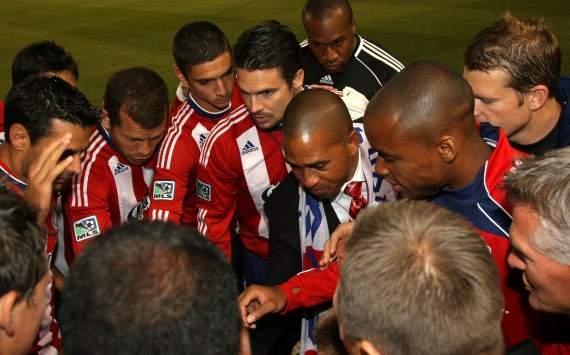 Intangibles
Philadelphia
: Traveling home from Vancouver during a regular week could seem difficult. Having to travel across country to play another game during the middle of the week? Well now it's just getting to be a hassle. Adding a third game to that week? That's the question that will be answered on Saturday. As the team well knows, they clearly play better at home. They will have to use that energy to protect their unbeaten record at PPL Park.
Chivas USA
: Fullback Zarek Valentin hails from Pennsylvania and will have 200 friends and family in the stadium. He'll want to impress on Saturday.
Prediction
Bryan Robison
: The Union must come away with three points in this one, but their struggling offense is not helping. Chivas USA has scored at least one goal in five straight matches. That streak comes to an end on Saturday as the Union scratch a victory out at home 1-0.
Zac Lee Rigg
: Let's go for a low-scoring draw, perhaps nil-nil.
Keep updated with Major League Soccer by visiting Goal.com's MLS page and joining Goal.com's

page.