Washington D.C. will play host to the quarter-final battle between the Central Americans as they look to make it into the last four of the CONCACAF Gold Cup.
Panama (4-4-2):
Cano; Baloy, Torres, Dasent, Henriquez; Barahona, Cooper, Espinoza Gomez; Perez, Tejada.



Panama will battle El Salvador with the same lineup that took down the United States in the second match of the tournament. Blas Perez and Luis Tejada will be the men up top.
El Salvador (4-4-2):
Montes; Turcios, Garcia, Anaya, Hernandez; Romero, Dennis Alas, Jaime Alas, Flores; Zelaya, Corrales.
No surprises in the lineup for El Salvador. Star Rodolfo Zelaya will be the man counted on to carry the side into the semi-finals.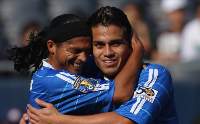 Panama won Group C with seven points, beating out the United States and Canada.

Winning the group marked the first time Panama had topped a group in the competition.

Panama's goal in the dying minutes to tie Canada in the final match of the group stage is the reason why El Salvador are still playing. A win by Canada would have given it six points to tie the United States, leaving Panama at four, thus eliminating El Salvador on goal differential. Since the match resulted in a tie, Canada tied El Salvador with four points, but the last goal sent the Canucks into the negative on goal differential, one behind El Salvador.

Panama has never won the competition.

The Red Tide finished in second in 2005.

Panama is one of three teams that have not yet lost in the tournament.
El Salvador has never won the tournament either, finishing second on two occasions.

El Salvador's 6-1 thrashing of Cuba in the final game of the group stage saw their goal differential go from minus five to even when Eliseo Quintanilla scored in the 94th minute. That goal, combined with the late goal by Panama against Canada saw the squad go through by one goal.

El Salvador was grouped with its opponent for Sunday in the Copa Centroamericana earlier this year. El Salvador fell to Panama 2-0.

According to Diego Maradona, Jorge Gonzalez, the best player in El Salvador's history and a star for Cadiz in Spain, was a better footballer than he was.
page; be part of the best soccer fan community in the world!