On Form
New York Red Bulls:
Can a team be any more "on form" than winning consecutive matches with a cumulative seven unanswered goals? Last Thursday the New York Red Bulls traveled south to RFK Stadium, a ground where they have traditionally failed, and destroyed their rivals D.C. United. Thierry Henry, who tallied twice, Joel Lindpere, and Juan Agudelo scored one more than were managed against a lackluster San Jose Earthquakes the match before. The Frenchman, who struggled early in the season, has flourished during this brief hot spell as he put one past Jon Busch in the SJ match as well. A searing Henry firmly places RBNY in Supporters' Shield contention.

Sporting Kansas City:
In his first five seasons in MLS, Kei Kemara totalled 13 goals and three assists. Last season, his sixth in the league, he had a breakout campaign and tallied 10 goals and six assists. After a brace last weekend, his 2011 return of three goals and two assists in just four matches is showing that his 2010 was not a fluke.
Off Target
New York:
The deflating truth behind the past two matches is that, well, they were only two matches. The feeling around New York is that the Red Bulls are finally living up to their potential and will continue at this pace for the rest of the campaign; however, a few more victories are needed to prove that this is not merely a streak. A dominating win, similar to those over the past fortnight, would illustrate that Real Salt Lake might actually have some competition in MLS this season.
Kansas City:
It's starting to sound like a broken record, but Sporting's defense is still hemorrhaging goals. Only Portland has allowed more goals than Sporting KC this season, but the Timbers have played two more games. Allowing 12 goals in five matches generally finds teams exactly where Sporting see themselves right now: at the bottom of the table.
Tactics
New York:
Hans Backe has the fortunate predicament of having to juggle three extremely hot strikers. Henry, the club's – and arguably the league's – marquee player will undoubtedly be in the Swede's starting eleven. His partner, though, could be either Luke Rogers or Juan Agudelo. The former was the MLS Player of the Week after netting two against the Quakes, but the young American international scored an absolutely phenomenal goal against D.C. that could force Backe's hands. Rogers was decent last Thursday; Agudelo astounded. Few would be surprised if the prodigious forward appears on Saturday from the first blow of the referee's whistle.
Kansas City:
Ryan Smith made his season debut as a substitute against New England last week, and he could make his first start this week. Birahim Diop seems the likeliest of Sporting's three starting midfielders last week to make way. Aurelien Collin showed decently well in his MLS debut at center back, but was sent off in the 75th minute. The red card turned out to be a case of mistaken identity however, and the league rescinded Collin's red this week, making him eligible for this weekend's match. Expect to see him partnered with Matt Besler in central defense for a second straight week.
Intangibles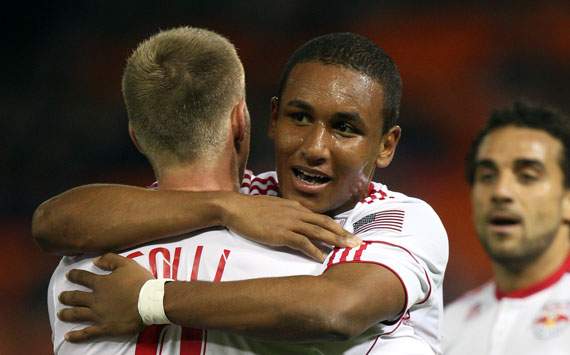 The Red Bulls are becoming contenders
New York:
The victory against D.C. allowed the Red Bulls to leapfrog past the Philadelphia Union – who rescheduled last weekend's match against RSL on their opponent's behalf - in the Eastern Conference standings. New York wants to establish itself as the East's most dominant club, beating a struggling Sporting Kansas City should be expected of a franchise with this goal.
Kansas City:
On paper, this match would appear to be a thrashing in the making. Kansas City's leaky defense picked a bad time to run into the Red Bulls, who have three strikers on top form in Luke Rodgers, Juan Agudelo and Thierry Henry. Peter Vermes will have to get everything out of his men to secure any result at Red Bull Arena.
Outcome
Avery Raimondo:
The Red Bulls defense will finally let one in after two consecutive clean sheets, but the potent Red Bull attack, behind the resurgent Henry, will score at least twice in New York's third consecutive win.
Seth Vertelney:
New York's offense is too much for Kansas City to handle, 3-1 Red Bulls.
For more on Major League Soccer, visit Goal.com's MLS page and join Goal.com USA's Facebook fan page!