The second leg with New York back at home.
Momentum
Although New York grabbed a commanding lead in the series with a 1-0 victory in San Jose, things will not be too straightforward for the Red Bulls. Apart from Los Angeles, San Jose has been the most dangerous road team in MLS, and besides a 4-1 loss to Kansas City on the final day of the season, looked much more formidable in their opponent's stadiums than they did in their own. Hans Backe has already emphasized the importance of playing for the win in Thursday's match, and he will have to get his players to buy into that versus a San Jose side that will likely attack out of the gate.
Nonetheless, the Red Bulls defeated San Jose fairly handily in the corresponding regular-season fixture, winning 2-0 thanks to goals from Dane Richards and Thierry Henry. They managed to stymie the threats of Geovanni and Chris Wondolowski as well, a plan they will surely replicate in preparing for the second leg of this series.
Tactics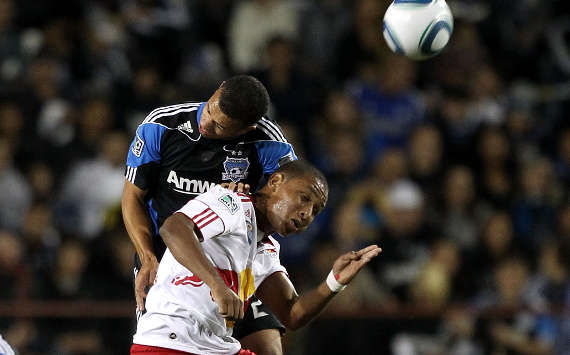 San Jose has not looked too comfortable playing an open, attacking game, but they know they will need to attack from the get-go in order to have any hope of advancing. The team looked rushed and showed little cohesion while in possession in the first leg and gifted the ball to New York all over the pitch. On Thursday, they will need to be more effective with their possession, especially with New York sporting a full strength midfield.
The Scott Sealy experiment did not pay off as well as Frank Yallop had hoped, and Khari Stephenson could return in a starting role in the center of midfield. Aside from that, it is unlikely Yallop will change his lineup, though he will still need to make a few tactical adjustments. Although the team did a fine job in shutting down Dane Richards and Rafa Marquez, it came at the expense of letting Joel Lindpere work his magic in the left channels. What is clear is that New York possesses many potent weapons and that the suddenly shaky San Jose defense that has emerged in the run-up to the playoffs must right itself in order to give the team a chance at advancing.
For New York, the game plan is a bit simpler. They did an excellent job of cutting off service to Chris Wondolowski in the first leg, effectively shutting down Sealy, Bobby Convey, Geovanni and Ryan Johnson as well as the MLS Golden Boot winner. More of the same will be expected on Thursday, and although Backe wants his side to play for the win, they are still likely to take fewer risks going forward and to focus on shutting down San Jose's scoring threat. Lineup-wise, Hans Backe can welcome back Tony Tchani and Ibrahim Salou, and possibly Thierry Henry off the bench, giving him more tactical flexibility and allowing him to revert to the tactics that have served him well throughout the season.
Turning Points
As has been the case for most of the season, San Jose's turning point is Chris Wondolowski. If his teammates can get into positions to provide the necessary service, you can bet he will be on hand to put a shot on target. Also, the defense will need to hold together better in order to keep a clean sheet, as a New York goal, especially before a San Jose goal, could be the nail in the coffin for the Earthquakes season. With this in mind, it will be important for New York to score early. If they can put themselves 2-0 up in the tie early on and make San Jose chase the game, New York can be much more comfortable sitting back and picking out its openings to possibly put another goal or two past the Earthquakes.
Question Marks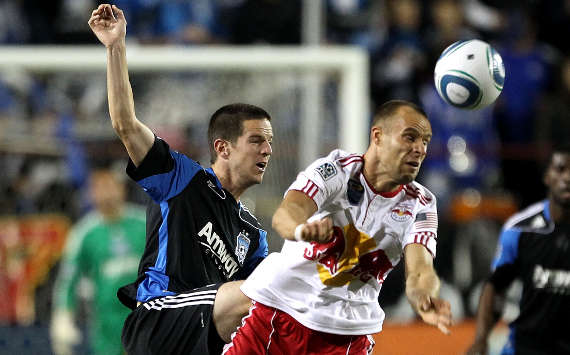 New York managed to play through some injury troubles in the first leg, and Salou Ibrahim and Tony Tchani should be fit to play in Thursday's match after missing the first leg. Thierry Henry is still a question mark, but Hans Backe hinted in Saturday's post game press conference that he would at least be able to play off the bench. Joel Lindpere, the catalyst for New York's first leg victory, left the game in injury time with an apparent groin injury, but should be available to start on Thursday.
After an injury-plagued season, San Jose has had very few fitness worries in the playoffs so far. Apart from long term injuries to Andre Luiz, Joe Cannon, Joey Gjertsen and Ike Opara, they should be fully fit and rested in the run-up to Thursday's decisive match.
Up Next
It's a pretty simple scenario. A tie or a New York win sends them through to the Eastern Conference final, which they would host. A San Jose win by two goals would send them through to the Eastern Conference final, which would be hosted by the winner of the Columbus-Colorado playoff series. A one goal San Jose win would see the tie decided on penalties, since away goals do not count in the MLS playoffs.

Keep updated with Major League Soccer throughout the playoffs by visiting Goal.com's MLS page and joining Goal.com USA's Facebook fan page!