Boston and New York collide as the Revs and the Red Bulls clash.
On Form
New York Red Bulls:
There are few positives for the New York Red Bulls that can be extracted from its demoralizing 1-1 draw against the Columbus Crew. The tie – interpreted more as a defeat – takes New York's win-less streak to six matches and might be the nadir of the Backe-Soler era. That being said, Mehdi Ballouchy scoring was one plus from the otherwise disappointing match as the Moroccan is an essential member of the Red Bulls until the quintet of New Yorkers that departed for the Gold Cup return.

New England Revolution:
Shalrie Joesph is New England's saving grace. The 33-year-old midfielder decided to stay with the Revolution instead of joining Grenada for the Gold Cup. This is a huge boost to the Revolution, who were poised to be without both central midfielders because of Gold Cup commitments. Joesph's presence keeps a veteran in the midfield instead of forcing the team to rely on inexperienced players like Stephen McCarthy. There is no telling how much trouble New England would be in without Joesph.
Off Target
New York:
Tim Ream, Juan Agudelo, Dane Richards and Ráfa Marquez were all part of winning sides to open the Gold Cup. The wins confirmed what Red Bull supporters had been fearing: these players – and Dwayne De Rosario, considering Canada should rebound from the loss to the States – won't be back for awhile. Without these stars, New York's attack was tempered and its defense looked cautious against Columbus.

New England:
New week, same story, New England cannot find its offensive form. What is the answer? New formation? New players? Attitude adjustment? The answer is really not known yet, but something needs to change fast for New England. Rajko Lekic is still struggling, Benny Feilhaber is out injured, and Marco Perovic is out for the entire season. Someone new needs to step up in Foxboro.
Tactics
New York:
While the international absences were expected, Jan Gunnar Solli's early exist against the Crew due to a hamstring injury stunted New York. The Norwegian has been a stalwart at right back for the Red Bulls, making energetic attacking forays while solidifying his flank defensively. If Solli, listed as questionable, can't return against the Revs, Matt Kassel could make another appearance after looking serviceable, but not particularly impressive last weekend.

New England:
Head coach Steve Nicol needs to play a 4-4-2 formation. Adding a striker like Zach Schilawski could really open up play for New England. An example of this occurred late in New England's game against LA, Nicol moved to a 4-4-2 and the Revolution had some good chances on net. Last week against Dallas the strike force came up with nothing.
Intangibles
New York:
In the wake of the draw against the Crew, the Red Bull locker-room was embattled with arguments and near fights allegedly breaking out between players. While this could be a sign of internal division, the frustration should lead to an inspired and passionate performance against New England.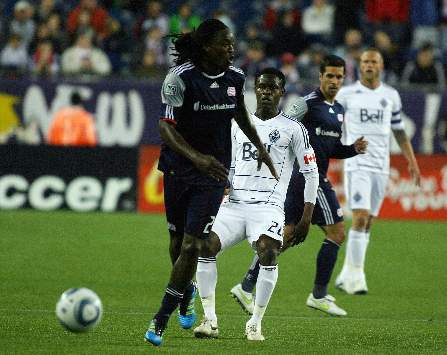 New England:
The New York Red Bulls are not where they want to be this far into the season. Last Saturday against the Columbus Crew they came away with a disappointing home draw, New York has not been very successful since April and the poor form is something New England may capitalize on.
Outcome
Avery Raimondo:
I've said this repeatedly in the last few previews, but New York breaking its winless streak is inevitable. There is simply too much talent on the roster for the Red Bulls to fall into an extended drought like the Whitecaps are experiencing. 1-0 to New York with the breakthrough coming from the feet of Luke Rodgers.
Justin Churchill:
I think New England finally catches the break it has been looking for. Steve Nicol may change his lineup around and the Revs will walk away with a 1-0 victory.
Keep updated with Major League Soccer by visiting Goal.com's MLS page and joining Goal.com's

page.