Dynamo head east to take on a powerful New York squad.
On Form
New York Red Bulls:
The Red Bulls will be restored to near full-strength after battling with a depleted squad the Columbus Crew to a scoreless draw. An array of international stars that played well in the weekend's friendlies should return to Hans Backe's starting eleven as well as Thierry Henry whose hamstring is expected to heal by kickoff. This rejuvenated side will likely resemble the possession-oriented New York that looked impressive in an opening day victory over the Seattle Sounders rather than the more pragmatic, defensive team fielded in Ohio. Those making their returns like Juan Agudelo, Rafa Marquez, and Tim Ream will play alongside Teemu Tainio and Jan Gunnar Solli, two Scandinavian signings who've looked fantastic in their first two MLS matches.
Houston Dynamo:
It looked as if Houston Dynamo were in line to steal three points from Seattle Sounders in Seattle before a deserved late equalizer by Sounder winger Steve Zakuani. Tally Hall tallied seven saves for Houston and made a case for man of the match even in a losing effort. Dynamo central midfielder Lovel Palmer is not afraid to get stuck-in towards the middle of the pitch and shoots from distance with malice. The rebound from Palmer's free kick off the crossbar led to a scramble in the box that produced the Houston Dynamo's only goal this season.
Off Target
New York:
Red Bull supporters have expressed few qualms over Back's selections, but there has been some discontent over Mehdi Ballouchy's performances. The Moroccan hasn't impressed since arriving from Colorado last season; he doesn't appear to have the determination needed to excel as New York's proverbial number ten. Pressure has only intensified around Ballouchy as RBNY sporting director Erik Soler announced that he will likely bring in an attacking midfielder before the April 15th signing deadline. Ballouchy might even be ousted before that player arrives as Tony Tchani is far too talented to remain on the bench for long.
Houston:
Tally Hall impressed with his seven saves, but the Dynamo defense has been exposed early this season, even if they have only conceded twice. Seattle dominated possession. The Houston center backs look slow, and the pacey outside backs need to remember to defend as well as to get forward. Look to see if Bobby Boswell gets minutes after his set piece defense allowed the late goal. The Dynamo have only recorded one point from matches against a Union side that finished 14th in the MLS last year and a Seattle team that the Red Bulls made to look very tame in their opener. They must find a way both to score goals and to protect Hall.
Tactics
New York:
Backe does not waver from his classic 4-4-2. His team sheet should be identical to the one from the Seattle match except for Bouna Coundoul stepping in for the concussed Greg Sutton and maybe the aforementioned Tchani for Ballouchy change. The latter would completely the complexion of New York's midfield. Ballouchy is a more traditional playmaker who hugs the forward line while Tchani is a dynamic athlete that gallops from box-to-box. With Tainio orchestrating from the bottom of the diamond, Ballouchy is a more natural fit; however, the addition of Tchani would stifle Houston's relatively pragmatic midfield.
Houston:
The Houston Dynamo can't boast speed, but power is an aspect of their game that they must utilize. Lovel Palmer can both win and hold the ball in an advanced central role. Any combination of Dynamo strikers featured last week, Will Bruin, Jason Garey, and Brian Ching need to use their big bodies to hold possession in the New York end. The Dynamo should aim for strong, outside of the box shots and look for keeper bobbles or rebounds. If that doesn't work, the Dynamo big men must get into the box looking for heading opportunities. It's a bit of a rusty way to attack, but they need to play to their strength, which is, well- strength.
Intangibles
New York:
Juan Agudelo has been on top of the world since his exhilarating performance against the San Jose Earthquakes in last season's playoffs. After scoring the winner against Sounders and an equalizer in the Argentina friendly, the young striker has become the most hyped talent in the United States national team. The match against Houston should be a good indicator on what type of head Agudelo has and how he will progress.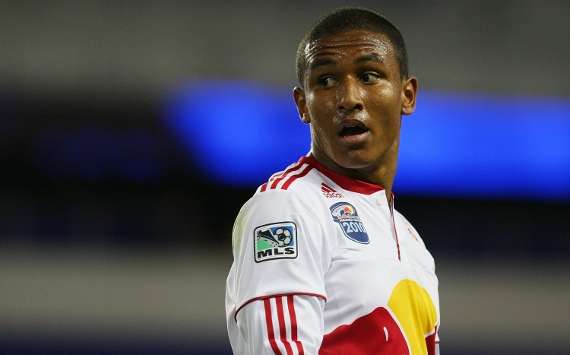 Houston:
The Dynamo are coming off a gritty point in Seattle. They need to take a positive, workhorse-like attitude to New York and try to scrape some more vital away points.
Prediction
Avery Raimondo:
I expect a 1-0 victory to the Red Bulls with Henry taking the spotlight from his prodigious partner and another assured performance from the central defense of Marquez and Ream.

David Katz:
I don't think the Dynamo have the confidence or class to take points from Seattle and New York in back to back weeks. New York ease 2-0.
Follow Goal.com on

to get the latest soccer news directly. Check out Goal.com's

page; be part of the best soccer fan community in the world!