The Whitecaps travel east after a last-minute equalizer earned a point against Dallas Wednesday
On Form:


New England Revolution:
New England effectively held onto the ball last weekend against the Colorado Rapids. The only major problem they seemed to have was their actions in the final third. There was a lack of creativity and poor distribution to target striker Rajko Lekic. Lekic seemed frustrated in 0-0 draw against the Rapids. His frustration was warranted as there were plenty of opportunities that New England could not put away. The key to success for New England is to now build on the possession they created by scoring. Finishing opportunities or making selfish plays would have led to victory against Colorado.
Vancouver Whitecaps:
Jay DeMerit. What a relief it was to see Captain America come on for the final 15 minutes of the game on Wednesday. He immediately took charge of the back line and the midfielders in front of him. He is the definition of a true leader and I would sell my first born to have him switch nationalities to Canadian. I'm not sure he's ready to play 90 minutes but I could see Teitur Thordarson slowly build up his match fitness over the period of a few games.
Off Target:
Revolution:
Sainey Nyassi had a decent showing last weekend, especially in his play down the flank with Benny Felihaber. However, Nyassi took the ball into the 18 from the right side and had space to make a pass to an open Rajko Lekic, but he instead dribbled onto goal from a bad angle and got tackled. This play was the breaking point for Lekic who discussed his displeasure with Nyassi after the play. Nyassi still had an improved performance last weekend besides the one play.
Whitecaps:
Terry Dunfield. Being the only local boy on the Whitecaps has given Terry Dunfield the title as fan and media favorite, but at Wednesday's game versus SJ Earthquake he was atrocious. His performance has mirrored the Whitecaps in a way. A great game and a goal versus Toronto on the opening day and it has gone downhill from there. He sometimes looks like he is Vancouver's talisman, and sometimes he looks like his hips are rusting shut. I've made a habit of chatting pregame with travelling MLS writers and to a man they all say he is not good enough to play in MLS.
Tactics:
Revolution:
Last weekend New England coach Steve Nicol tried to adjust the team's tactics due to injuries. Outside midfielders were in short supply against the Rapids, so Nicol decided to play Benny Feilhaber in the left midfielder position. Feilhaber looked lost in such a wide position and after one half out wide he was switched towards the center of the field. Being the force that Feilhaber is Nicol should put out a team that will play to his specialties. Pairing him with Joesph has worked well but the play on the flanks is where offensive problems are occurring. The outside backs have not been providing offensively and the outside midfield misses the play of Marko Perovic.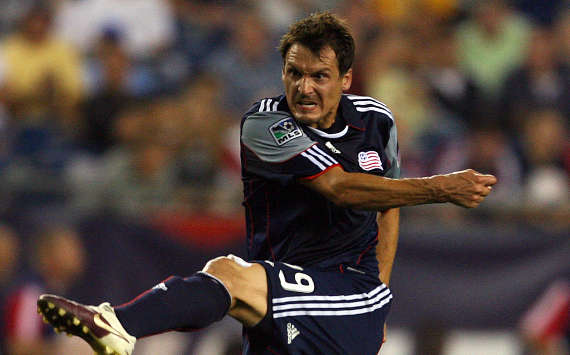 Whitecaps:
This game will be the first of the year where the Whitecaps complete their home and away series with a MLS team. It would be wonderful to evaluate the last game and give a detailed tactical breakdown, but as fans remember, the Vancouver leg between these teams was the infamous Baldomero Toledo game. The game ended 10 v 9, the Revs tied it in extra time, and Hassli scored and got two yellows in 16 minutes, the second for removing his shirt.
Intangibles:
Revolution:
For the second week in a row New England will be playing an opponent that had a midweek game. There is even more good news for New England as Vancouver striker Eric Hassli picked up a knock and could miss the game this weekend. Injuries for New England keep racking up though as Ousmane Dabo will most likely miss the game on Saturday.
Whitecaps:
After winning their opening game versus Toronto the Whitecaps have yet to find their second franchise win, going 0-5-4. The Whitecaps are learning that the MLS season on top of CONCACAF Champions league qualifying makes for a tough slog. This fixture congestion is exposing the lack of depth in the Whitecaps squad as Coach Teitur Thordarson is forced to rotate in players who are not at a MLS level.
Prediction:
Justin Churchill:
I can see New England winning this game and improving once again. New England 2-0.
Trevor Leach:
The Whitecaps have done nothing to say they deserve a win in the last few games. They looked tired on Wednesday night versus San Jose and a cross continent flight to New England is exactly what they did not need. 2-0 loss
For more on Major League Soccer, visit Goal.com's MLS page and join Goal.com USA's Facebook fan page!