Two classic Eastern Conference powers are set to meet in New England.
On Form
New England Revolution:
Marko Perovic and Shalrie Joseph helped the Revolution jump to a early lead last week at the Home Depot Center. Perovic's ball across the net in the 3rd minute was met by Joseph as New England had the perfect start against the Galaxy. Joseph could not have had a better start to season with his preseason issues. However, the goal in the 3rd minute was the only moment of brilliance that was shown as the Revolution sat back in their own half to protect the lead for most of the game.
D.C. United:
Ben Olsen. In his first game as the full time manager of D.C. United, Benny could do no wrong. Albeit against a seemingly weaker Columbus Crew team, Olsen had his side playing sharp. All 11 players were determined, and put in an effort worthy of the 3-1 victory. Olsen's lineup worked, and it appears as if his signings over the winter will do the trick for United this year - at least in comparison to last year. Of course, he also snuck Charlie Davies on the field, and the striker repaid Olsen's faith in him by scoring twice in his Black-and-Red debut. Not too shabby for the club legend at the helm, but he has raised expectations for the season after just one game.
Off Target
New England:
Where are the goals going to come from? The season for the Revolution certainly looked promising on the offensive front in last week's match. The magic didn't last long in that one though as the Revs were stifled for most of the 90. Marko Perovic, who was the catalyst for New England's lone goal against the Galaxy left the game with a hamstring injury. Perovic was the leading scorer last year for the Revolution and his loss could be a costly one.
Kenny Mansally and his Gambian teammate Sainey Nyassi will be leaving this week to meet up with their national team as the Fifa International fixture date falls on this week. This gives head coach Steve Nicol a less than optimal lineup to go against DC United.
D.C. United:
Joseph Ngwenya. Last week, I noted that Josh Wolff had to be worried about Davies potentially poaching his spot in the starting lineup. But I'll admit that I was wrong, and this is one of those times. Wolff put in a man of the match performance against Columbus, while Ngwenya had an off day, soccer-wise, according to Olsen. I don't think that'll mean that Ngwenya will necessarily be on the bench for the match against New England, but with Davies scoring twice, and generally playing well, the pressure is on Ngwenya to perform, or lose his spot on the team.
Tactics
New England:
The Revolution will once again be playing a strong offensive team, albeit one playing away from home. DC United's Charlie Davies is coming off a huge personal high from his brace against Columbus last weekend. Coach Steve Nicol had early success last week playing a 4-5-1 against an even stronger offensive side in the Galaxy. Given the injury issues the Revs have this weekend, it might be a safe choice for Nicol to play one striker in the front again. Patience will be key for a victory at home.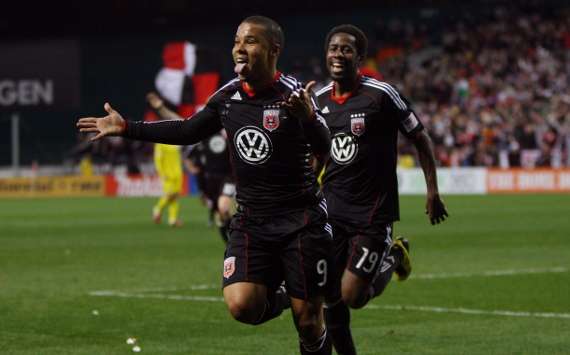 D.C. United:
Olsen will be forced to make one change already to his traditional 4-4-2 formation, as central defender Perry Kitchen has left the team following his 90 minute debut to join the United States' U20 side for the next month. The likely replacement is Rodrigo Brascesco, who was brought in during the winter, and projected to start before the rise of Kitchen. Olsen might be forced into another change, as Jed Zayner is still questionable with a hamstring strain, that forced him to leave the game against Columbus in the second half. Should Zayner be unable to play, Olsen will have to call upon one of Ethan White, Chris Korb, or Daniel Woolard to fill the gap in United's back. Benny also might be compelled to start Davies up top, but I think he'll hold off for one more week.
IntangiblesNew England:
The Revs have gotten points in all five of their last meetings versus DC United. Four of those meetings were also victories for the Revs. What will be the factor in this game? It could be a confident Sharlie Joseph, who seemed to have had the perfect start last weekend and could once again be a leader on the field. The weather is looking to be a crisp 35 degrees in the New England area on Saturday. This will be a slight advantage for the Revs.
D.C. United:
Charlie Davies' parents weren't able to make it to the game against the Columbus Crew, but being from the New England area, Davies just might have a few supporters to see him play against New England. Scoring in his debut was a great story, and scoring near his hometown would be another. The motivation is clearly there for Davies as well.
Outcome
Justin Churchill:
I think that DC United will be a very confident team after their terrific start last week. However they should not look past the Revolution, as they also had a great result. New England will be more apt to go forward with the ball against DC and for this reason I feel that New England will be able to hang with DC. I see this game ending 3 -2 New England because of home field advantage.
Steven Streff:
New England isn't Columbus, or Columbus isn't New England. United won't find the going as easy this week, and they historically struggle when playing in Massachusetts. With Sharlie Joseph already notching his first goal this year, look for New England to take this one, 2-1, behind another strong performance from Joseph.
Follow Goal.com on

to get the latest soccer news directly. Check out Goal.com's

page; be part of the best soccer fan community in the world!