The defending champions head to New England boosted by a mid-week comeback win at Houston.
On Form
Colorado Rapids:
Energy and the desire to prove themselves as part of a championship team have led Andre Akpan, Quincy Amarikwa, and Scott Palguta to score important winning goals for the Colorado Rapids. With injuries still haunting the team's forwards, the new starters are successfully strengthening the squad.

New England Revolution:
The squad has had some serious issues so far this season. Every week of MLS play has been hit or miss for New England. Last week's 3-0 loss to Chivas USA was arguably their worst performance of the season. Defensive lapses and the lack of offensive possession were the culprits of the disappointing loss. The outlook for New England was looking promising following their new signings and a win against Sporting KC. However, New England was a completely different team away from home last Saturday at the Home Depot Center.
Off Target
Rapids:
Omar Cummings flew back home to Colorado instead of joining the team in New England, after spraining his ankle against Houston. Having different forwards pairing up each match has caused the Rapids to struggle in the first halves of many matches.
Revolution:
The normally strong Revolution defense was very much off the mark in their play last weekend. The only member of the Revolution back four to show any positive play was rookie central defender A.J. Soares. Soares has been the bright spot on the defensive front for New England all season. The play of fullbacks Kevin Alston and Dider Domi was disappointing last weekend. The outside flanks of the field were completely exposed by Chivas USA as the outside backs of New England were often out of position. This is an issue head coach Steve Nicol must address this week in training.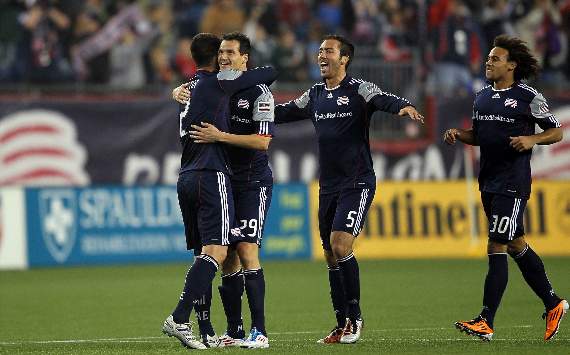 Rookie A.J. Soares (#5) has been excellent all season for the Revolution

Tactics
Rapids:
The midfield and defensive wall have been the guiding force and main goal scorers for the Rapids. They will have to come in ready to include whatever forwards are starting, but not depending on the strikers to score.
Revolution:
Injuries still are the main issue for New England in finding any cohesion on the field. Marko Perovic is still injured and is listed as doubtful for this match. Pat Phelan and Goalkeeper Matt Reis however, should be available for selection on Saturday. Midfielder Ousmane Dabo is finally off the injury report for the first time this season. If Dabo's fitness is up to coach Steve Nicol's standards, he could feature in the midfield with Benny Feilhaber and Shalrie Joesph. This central midfield set-up would be ideal for a 4-5-1 formation that could optimize possession and provide good service for striker Rajko Lekic.
Intangibles
Rapids:
The reigning champions enjoyed a 2-1 comeback victory against Houston on Wednesday. The confidence from the win may be the extra ingredient that gives the Rapids another victory.
Revolution:
New England will be well rested without having any midweek games this week. Their opponent will be coming to the New England area on Thursday after playing in a 2-1 victory over the Houston Dynamo on Wednesday night.
Outcome
Stephanie Gardner:
Making their way back up in the rankings, the Colorado Rapids will relish in defeating the New England Revolution 2-0.
Justin Churchill:
If the Revolution does not come out aggressively on Saturday night, their result will be disappointing. Colorado has a strong team despite their current injury problems and the defending MLS champions will surely put up a fight against New England. I see this game going to Colorado by a 2-1 score.
For more on Major League Soccer, visit Goal.com's MLS page and join Goal.com USA's Facebook fan page!