Two old foes square off with neither in particularly impressive form.
On Target
New England Revolution
: Midfielder Chris Tierney has continued to spring into form, his play steadily improving in the weeks since he landed a starting role. The increased offensive chances from New England directly correlates to Tierney's play on the outside of the pitch. His crosses have been spot on, while his shots on net have been threatening. As the team goes in search of a cohesive offense, Tierney's play could be key.
Chicago Fire
: As one streak ends, another one starts for the Fire, and this one in particular is quite a good one. Chicago is unbeaten in four matches now and carries a three-game shutout streak. Sean Johnson's backline is certainly molding into an sturdy outfit with other aspects of the game falling into place as well. Midfielder Daniel Paladini has had a run of excellent performances and has become the running engine of the team, and the same can be said for Corben Bone - two young, versatile, midfielders who continuously prove that a Pavel Pardo is far from needed in Fire's midfield.
Off Target
New England
: Finding the back of the net seems to be New England's biggest problem. Plenty of perfect opportunities have been created in recent games, but they have gone unconverted. Striker Rajko Lekic has been in a bit of a slump, but he will be looking to make an impact in the coming games. Lekic will either need to find a more clinical finishing touch or a new employer.
Chicago
: On June 15, the club announced the departure of Uruguayan forward Gaston Puerari. Puerari tallied a goal and two assist in his 14 appearances for the Windy City. The move will free up salary cap room and an international player spot for the Fire. Question is, are the rumored replacements exactly what this club needs right now? Midfielder Pavel Pardo is faced with replacing Logan Pause, Paladini, or Bone for a starting position and it's hard to see that happening. The other rumored player is Sebastián Hugo Grazzini, an attacking midfielder who played for All Boys in the Argentine Primera División this season. With everything slowly but surely gluing together, is bringing in a new leader the right move?
Tactics
New England
: Coach Steve Nicol decided to use a 4-4-2 formation again, which created much more active play for his team. In the coming weeks it is important that Nicol continues with this formation, as the team will eventually find the back of the net. The team also tends to tire easily; Nicol should make a few more substitutions earlier to add zest to the team later on in matches.
Chicago
: Minimal if any chances will take place in the starting XI on Saturday for the Fire. Klopas will stick to his 4-4-2 and place Johnson in goal, Anibaba-Gibbs-Cuesta-Segares across the back, Nyarko-Paladini-Pause-Bone in the center of the pitch, with Chaves and Barouch pairing up in the front. It will be a very similar Fire team that we witnessed last week in Columbus; very direct, attack-minded, with little tweaking involved. Expect a quality showing.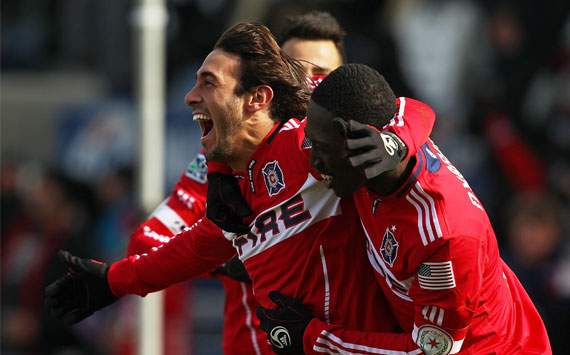 Gaston Puerari | Who will replace the Uruguayan up top?
Intangibles
New England
: On Wednesday the Revolution battled to a 0-0 tie with Toronto FC. It will face the Chicago Fire on Saturday on only a few days' rest. Look for Nicol to make a few changes in his lineup to prevent fatigue in the squad.
Chicago
: The Revs barely outweigh the Fire in past meetings at Gillette Stadium, with nine to eight wins in favor of the Revs and both teams collecting a pair of ties as well. The Revolution's recent form is also a pretty poor after having collected only one point out of a possible 15. The Fire also won both meetings last season so it will be quite interesting as to what the Fire can pull out in this one.
Outcome
New England
: I see New England finally breaking its scoring slump, but Chicago will equal the scoring as the game will finish in a 2-2 tie.
Chicago
: The Fire for the first time this season will win back-to-back games and come away with a 2-1 victory over the Revs.
Keep updated with Major League Soccer by visiting Goal.com's MLS page and joining Goal.com's

page.