After missing the team's two friendlies leading up to the Gold Cup, Javier Hernandez will lead Mexico against El Salvador in the first game of its tournament schedule. Let's face it. Most of the attention leading up to the Gold Cup isn't about the United States' Tim Howard or Costa Rica's Bryan Ruiz. It's about one man with one well-known name.
Chicharito.
Javier 'Chicharito' Hernandez, a forward for Manchester United, has become one of the biggest names in the world in just one season after scoring 20 goals, including 13 in the Premier League to help lead his team to the title. Now, he will showcase his game on the international level with Mexico in the Gold Cup.
After missing both of his nation's warm up games for the month-long tournament, Chicharito will be ready to go when Mexico takes on El Salvador tonight in Arlington, TX. It will be the first of three opening-round games for El Tri.
Chicharito, arguably the best player from the CONCACAF region, sat out Mexico's friendly last week as his team defeated New Zealand 3-0 in Denver in its final tune-up before the month-long tournament begins. He also missed its 1-1 draw against Ecuador due to his club team obligations.
"He's a player that always supports the team," forward Giovani dos Santos told the
AP
. "He's had a great year. He's just going to help the team a lot when he comes."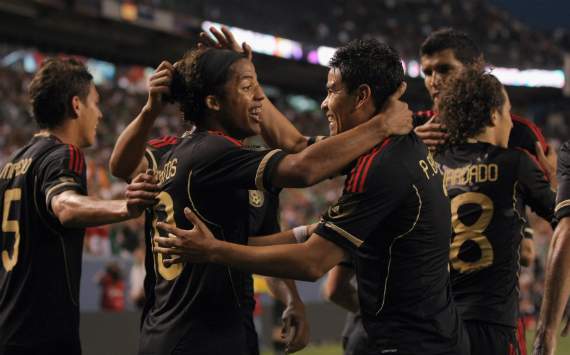 Ready To Go | Mexico celebrates win in Denver
Chicharito started for United in its 3-1 loss to Barcelona in the Champions League Final last weekend, but it's likely he didn't have to play in any friendly to secure a spot in the starting XI against El Salvador. The rest of the lineup, however, is unknown leading into the game.
"It's not a matter of being close to finding that squad for Sunday," coach José Manuel de la Torre said last week. " I constantly work with all the players in the same way, and I wait until the very last minute to decide the final eleven that would start the game. So closer to the game on Sunday, I'll see how the players are doing. I recognize that some of the players are players that started tonight, might be playing on Sunday, but I will wait until the very last minute."
In Chicharito's absence last week, dos Santos lit up the Mile High City with two goals in the first half, while Aldo de Nigris added another.
"I see the team very committed, very focused," de la Torre said.
Mexico will look to build off that performance at 8 p.m. ET tonight.