Is it the biggest game of the regular season? It's Goal.com's MLS game of the week at any rate.
On Form
Los Angeles Galaxy
: Earlier in the season when the Galaxy dropped a goal, that was all she wrote for the LA club. However, last week the Galaxy, led by Landon Donovan, bounced back and knocked in a brace in the last 10 minutes for the comeback win against D.C. United. That was the first comeback win by the Galaxy in 2010. They've bounced back for a draw before, but last week's win was a first. With the threat of losing their number one spot in the table and David Beckham's return, this team is becoming the dominant force of yestermonth.
New York Red Bulls
: It was only one game, but for a new player Mehdi Ballouchy had a great New York Red Bull debut. He will play a free role behind the lone striker again this week and he will get chances. If he can find the target again he will be a fan favorite in NY/NJ before he even plays in Red Bull Arena. Dane Richards is still in good form and the Red Bulls will need him threatening the LA Galaxy left flank to open up space for Juan Pablo Angel.
Off Target
Los Angeles
: Fouls and finishes. The Galaxy's Omar Gonzalez was booked for a reckless tackle last week and as a result will miss Friday's match-up with New York. The backline is already thin due to injuries and his absence make reveal the chink in the defense's armor. Also, the plays are there, the opportunities are present, it seems like every time they have the advantage, they squander it or use poor judgment. Donovan singlehandedly won the game last week; this cannot continue if they plan to make it through the post season. The team needs to wake up and start playing at the opening whistle -- no later.
New York
: The Red Bulls possession game came apart against FC Dallas. The team regained control after Brek Shea's red card, but they still had a lot of costly turnovers that led to Dallas counters. All season the team has played a good level of possession soccer and if they want to stand any chance against the Galaxy in the biggest regular season game of the year they need Rafa Marquez and Tony Tchani to impose themselves on the game.
Tactics
Los Angeles
: Defender AJ DeLaGarza and Leonardo are projected to return Friday night from injury. This will alleviate some stress from the backline. With David Beckham, who is getting fitter as the days go by, commanding the midfield, Donovan can move up to the front with Edson Buddle and produce goals there. It's worked a few times already, so coach Bruce Arena should stick with what's proven.
New York
: 4-4-1-1. The back four will remain the same, as will the midfield. With Thierry Henry out with a mild MCL sprain, Mehdi Ballouchy will keep his spot in the starting line-up behind Juan Pablo Angel. His ability to cover in center midfield gives Marquez more freedom to push forward, but that may create more chances for Landon Donovan and Edson Buddle than for the Mexico captain.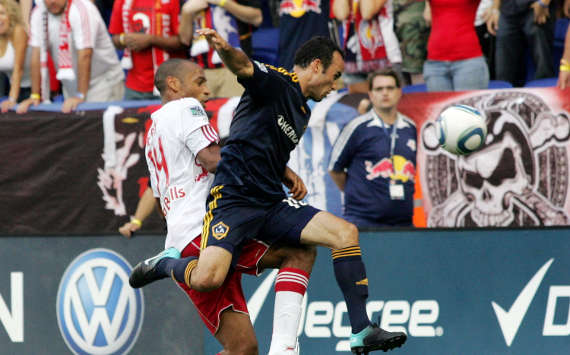 Intangibles
Los Angeles
: Friday's face-off was supposed to be a match of epic proportions 14 years in the making. However, Thierry Henry was ruled out as a precautionary measure because of a sprained knee. But, the Red Bulls still have Rafa Marquez and Juan Pablo Angel, two superstars that could make things difficult for the Galaxy. That said, the Galaxy have a habit of showing up guns a-blazin' on monumental matches. So it should be a good one.
New York
: This game is being billed as the biggest regular season game of the year. That will add adrenaline for both teams, and the Red Bulls will need it with an 11 p.m. EST start time. Los Angeles looks to have turned their slump around, but they still have not reached top form. A high profile match might be just what they need to start clicking.

Outcome
Los Angeles
: If Henry was playing, I'd predict a 2-2 draw (given LA injured backline). But since his not, I am going to call it a 2-1 victory for the Galaxy with Edson Buddle and Angel scoring one each.
New York
: Major League Soccer will get the show it wants as New York will play patient, attractive build-up soccer and Los Angeles will provide the excitement through quick-strike counters. 3-2 LA Galaxy.
For more on Major League Soccer, visit Goal.com's MLS page and join Goal.com USA's Facebook fan page!