First meets worst in this one.
On Form
Los Angeles Galaxy: Last week against the first place Columbus Crew we saw a revamped, revitalized, and re-energized Galaxy squad. There were many factor to this but the elephant in the room was the return of David Beckham. Coaches and players alike praised the midfielder and acknowledged his presence on and off the field elevates spirits and morale in the Galaxy locker room. This uplifting was demonstrated on the pitch that very night as the Galaxy executed tic tac toe plays with great finishes.
D.C. United:
Without much to go on, Julius James had quite the weekend. Let's see his list off accomplishments: Help keep a clean sheet away from home, a rarity for United; scored a goal, a rarity for himself and United; and got Toronto manager Preki fired. Another rarity. The Trinidadian center back had himself a good game in the win over Toronto, just days after team president Kevin Payne noted James for his inconsistency in a Q&A session with the season ticket holders for D.C. United. Ouch, Mr. Payne. Don't project your shortcomings as team president on others like that. James does have the confidence of his manager Ben Olsen though, although it's likely Olsen won't retain his managerial position at the end of the season.
Off Target
Galaxy:
Being too relaxed will be the destruction of the Galaxy. We saw this in the past two month. The Galaxy were 11 points clear on second place and became too relaxed on the pitch and slowly let the lead slip. Last week we saw the same thing. LA took a comfortable 3-0 lead 55 minutes deep. From then on they played conservatively and became a little too complacent resulting in a midfield error and botched clearance from Leonardo which put the Crew on the board.
United:
Finishing remains an issue with the United side. Most notable against Toronto was Santino Quaranta's miss from Andy Najar's pass in the second half of the game. Now, Najar's pass made the chance difficult for Quaranta, and you could see him say "it wasn't easy" to his teammates. But, as a professional player, sometimes you just have to find a way to get the ball into the goal, no excuses. It shouldn't matter how the goal looks, but just the fact that the ball found it's way to the goal is what is important. Maybe if United had something to play for, Quaranta would have been able to produce the goal, but that is hardly a good excuse in this sense.
Tactics

Galaxy:
Before the match up last week coach Bruce Arena's line-up warranted suspicion. However, never question the manager. His masterminding paid off, big time. Expect a similar line-up from the Galaxy. And just like last week, David Beckham should make his second appearance from the bench. Given a favorable or dreadful circumstance, look for the midfielder to come in at the 60th minute. However, if it is a tight game, the Englishman could enter at the 80th minute -- if at all.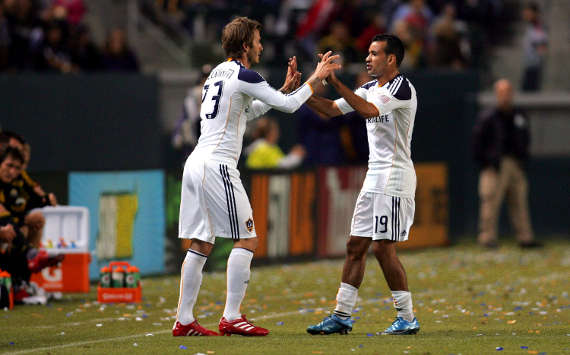 United:
The injury list almost reads like a list of who's who of guys who have dated Kim Kardashian. Maybe none of those guys have dated Kim before but..... okay, no idea where I was going with that. Only D.C. alum to go on a date with Kim is Alekco Eskandarian, who coincidentally, is injured at the moment. But here's the injury list (and remember, most of these guys are out for the season): Hamid, Burch, Pena, Pontius, Barklage, Wallace, Cristman Namoff, Simms, and Rice.
So against LA, Olsen should run out a side with Troy Perkins in goal, with Zayner, James, Jakovic, and Graye in defense. King and Boskovic in the middle of the field, Najar and Quaranta on the wings, and Allsopp and Hernandez up top. Really no other options at the moment.
Intangibles
Galaxy:
The Galaxy are back at first place in the MLS standings from a two day absence after Real Salt Lake had usurped the throne. A victory Saturday night, provided that Kansas City and Chicago lose, will clinch a play-off berth for the LA club.
United:
I noted this last week, and it ended up becoming true. Toronto needed a win, while there was no pressure on United -- which resulted in a win for D.C. With the win, United have almost ended Toronto's hopes for making the playoffs this year. Fat chance of ending LA's playoff hopes or getting Bruce Arena fired, but there is still pressure on LA to get a win to keep top of the table, to ensure home field advantage during the playoffs. If United can spoil a couple of teams during the playoff and Supporters Shield push here at the end of the season, then the team just might be able to muster up some momentum heading into 2011.
Outcome
Galaxy: There will be no unity for DC this Saturday night as they go down 2-0.
United:
Alas, this LA team managed by the former D.C. manager is rather good. D.C. will put up a good fight for a while, but in the end, they'll fall to LA, 2-0.
For more on Major League Soccer, visit Goal.com's MLS page and join Goal.com USA's Facebook fan page!