USA enters the knockout round looking to put a disappointing group stage in the rear-view mirror.
After storming through the group stage with three wins, it's easy to understand how the Jamaican national team has garnered so much attention for its play thus far in the Gold Cup.
It's also easy to understand the frustrations of the USA fans after a rather unconvincing group stage. The forums and comment pages lit up after the USA's 1-0 win over Guadeloupe, and had anybody who didn't watch the game formulated an opinion off of the reactions of the masses, it was have been clear that the USA was completely outplayed, shouldn't have won, and has no chance at reaching the Gold Cup final.
In reality, the win over Guadeloupe was a largely dominant performance for a team that simply had a horrendous night in front of goal. The USA had, depending on which set of stats you believe, about a ten percent advantage in terms of possession, got off 22 shots while only giving up six, and kept Guadeloupe from putting even one shot on target. In fact, aside from an early chance which deflected off the crossbar, the USA never really even gave Guadeloupe much of a chance to score.
Not that it was a good night for the USA. After all, 22 shots producing only one goal is unacceptable. But claims that the team lacked any real drive to finish off the match are contrary to all statistical evidence. Teams that aren't trying to find goals generally don't get off 20-plus shots.
"It's still positive that we were able to create a good number of chances," U.S. midfielder Michael Bradley said after the Guadeloupe win. "It's important that as we move forward in this tournament each game gets a little better, and each game we're a little bit sharper. They don't hand out a trophy after three games. It's six games and the goal is at the end to be playing your best soccer."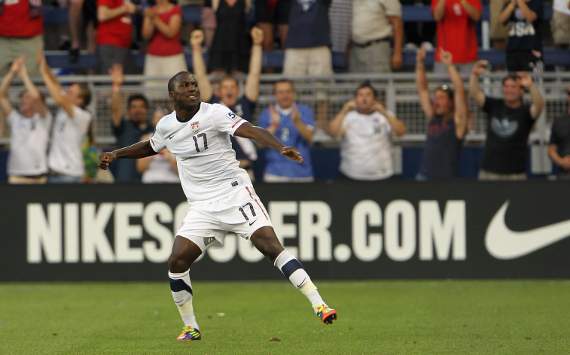 For Jamaica, the situation is actually reversed. A win over Honduras rounded out a perfect record in the group stage, and suddenly the expectations are soaring for a team that traditionally hasn't been very good in the Gold Cup. A quick glance at Jamaica's showing in the group stage would leave the casual observer very impressed.
But upon further examination, it becomes clear that while Jamaica has been good, it has also benefited greatly from being in the competition's softest group. A 4-0 win over Grenada is nice, but the same Grenada side lost by six to Honduras and had to play the entire competition without its one quality player, midfielder Shalrie Joseph. Other than that the Jamaicans have been effective but unspectacular, racking up a 2-0 win over Guatemala and a 1-0 win over a Honduras side missing Wilson Palacios, Maynor Figueroa and Emilio Izaguirre, arguably its three best players, to clinch the group.
This is not to say that Jamaica does not deserve credit for playing well, or should not cause some moments of worry for the USA. The team has speed to burn and should be largely familiar with the USA's style of play. However, like Honduras, the Jamaicans are missing a couple of key figures, and the group stage competition is not a very good barometer of where the team really stands in terms of the knockout rounds.
"I think Jamaica did really well," midfielder Sacha Kljestan said of Sunday's opposition. "They took nine points out of nine I think. Obviously I know quite a few of their players from being in Major League Soccer. So we've seen them play and we know how Caribbean teams play. They're usually very skillful. Obviously we still think we're the strongest team in CONCACAF so we still have to go out there and play hard. We need to play harder and better than we have in the first three games, that's for sure."
The USA and Jamaica have a pretty long history on the pitch. Sunday's quarterfinal will mark the 18th time the countries have met, with the USA having won nine times and the teams having played to eight draws. The USA also holds a 29-10 advantage in terms of goals scored with Jamaica having only ever scored more than one goal in a match against the USA one time.
Despite the historical advantages for the USA the matches between these sides are generally very tight. The last time the USA and Jamaica squared off was in 2006, with the USA squeaking out a 1-0 victory.
Only on the rare occasion has the USA been able to walk away from Jamaica with a comfortable win, and Sunday's match has all the makings of another classic between the two.
Visit the U.S. national team page on Goal.com for more and join Goal.com's

page.


CONCACAF Gold Cup™ Quarterfinal Jamaica v USA, Sunday 6/19 live at 2:30 p.m. ET on FOX Soccer! For a complete match schedule, click here