The now Preki-less TFC will take on Houston.
On Form
Houston Dynamo
: Brian Mullan...who is no longer with the team. Despite being one of few Dynamo players who has played to the best of his abilities this season, the 32-year-old utility man was shipped to Colorado this week for midfielder Colin Clark. With the playoffs out of the question for the Dynamo, it's understandable that they took this opportunity to get younger. So, the most on form player that is still with the Houston Dynamo is probably Geoff Cameron.
Since returning from injury, Cameron has provided the team with a spark due to his athleticism, work ethic, and incredible versatility. His ability to fill in at basically every position was sorely missed by the Dynamo when he was out with a knee injury, and they're playing better soccer with him in the lineup.
Toronto FC
: Since there was literally not a single redeeming quality about Toronto's 1-0 defeat last Saturday at home to cellar-dwelling D.C. United, let's look at the potential good that can from the Reds' administrative changes that happened this week.
To be blunt, Preki had lost the locker room. It was evident through performance, and even players' body language, that the desire to play under their manager had abated completely and a change was necessary. Obviously, change at this juncture of the season is never indicative of good things, but under interim manager Nick Dasovic, the Reds might be able to turn a corner and really push for one of the remaining playoff spots. Though, they've positioned themselves behind the eight-ball, a turnaround isn't out of the question and they still have head-to-head match-ups with clubs that they're directly chasing. If Dasovic has any designs of taking the "interim" tag off of his title, leading the Reds to a respectable run to end the season would go a long way in doing so.
Off Target
Houston
: Thanks to a minor league baseball playoff game, everyone gets a free pass! The baseball team that occupies Kansas City's Community America Ballpark needed to use the stadium for a playoff game last week, resulting in the postponement of the Dynamo's match against the Wizards. It's unnecessary to pile on the boys two weeks later for a mediocre performance against San Jose, so this week, let's pretend that the entire Dynamo team is in decent form. Consider this your "Get Out of Jail Free" card, boys.
Toronto
: You can look to the fractured relationship that Preki had will several of his charges and you can point to that for at least part of the reason for TFC's recent collapse, but at the end of the day, you're still talking about professional athletes. Before anybody else, Toronto FC's players should have to answer to themselves over their current state of play. Professional pride seemed to be lacking from the display seen on Saturday. Not a single player on the pitch in a Toronto shirt appeared to play with any urgency or have any desire to see post-season play. If the goal was to get Preki fired, then congratulations on mission accomplished, but the aim here is to make the playoffs and that laughable 90 minutes did nothing but set the team back.
Tactics
Houston
: With Geoff Cameron healthy and Anthony Obodai injured, many fans and neutrals will be hoping the Dynamo go back to the midfield setup that looked good early in the season, with Cameron at the top of a four man midfield diamond and Palmer at the bottom. Houston may have more depth in the midfield than they do in central defense, hence Cameron spending most of his time there since returning from injury, but his physical presence is a massive nuisance for opposing midfields and defenses. Toronto's Julian de Guzman is a skilled player, but he's a complete dwarf next to Cameron. This is a physical match-up that Dominic Kinnear should attempt to exploit.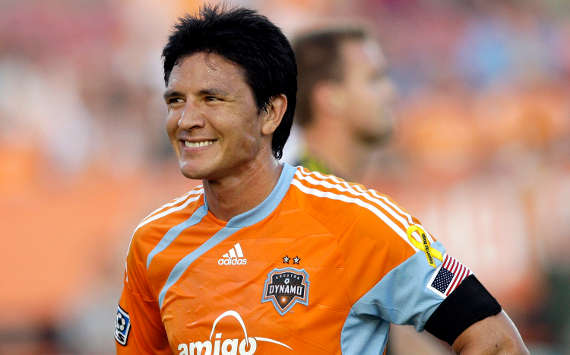 Toronto
: You're guess is as good as mine, here. Nick Dasovic brings with him a clean slate for the team and guys who had fallen out of favor with Preki will have their chance to win places back under the new gaffer. On the flip side, players who have seemingly coasted by on subpar performances, based on being on their manager's good books, are going to have to up their game to keep their spots.
With all of that being said, if the playoffs remain a realistic goal for the Reds, they really don't have the luxury of playing a conservative road game. Only two matches remain at home and they certainly are going to need more than two victories to get back in playoff contention. Houston, a club in spoiler mode right now, has to be seen as beatable for the Reds right now and the team must approach the match as such. Anything less than a full three points here does not bode well going forward.
Intangibles
Houston
: Last time these two teams met, a fist fight broke out, resulting in some red cards. Joseph Ngwenya is another decent option in the hole if Cameron is preferred in defense, but only if he vows not to punch anyone in the face. Hopefully in this match, unlike the one at BMO Field, cooler heads will prevail. Besides that, Houston might have a mental advantage because of recent events. While they have enjoyed a week off, Toronto FC lost on the weekend, got thumped in the middle of the week by Real Salt Lake in CONCACAF Champions League, and saw their coach and director of soccer get fired. The chances that TFC is confident, focused, and motivated going into this match are minimal. Houston should take advantage.
Toronto
: The reason for Maple Leafs Sports & Entertainment choosing to fire the coach and GM of their soccer club when they did will be fully realized on Saturday night. There really are only two options: Either the white flag on 2010 has been waved and the team is already looking ahead to next season or eliminating what was perceived to be detracting elements to the 2010 playoff push had to be done to salvage the drive. What you see from Toronto FC at Robertson Stadium on this weekend will be the telling factor in whether it was the former or the latter.
Prediction
Houston
: Toronto FC seems to be absolutely reeling right now. Their talent level is similar to Houston's, but the Dynamo should have a mental advantage. I like a 2-1 win for the Dynamo in a game that is not as close as the scoreboard suggests.
Toronto
: The uncertainty surrounding both clubs amounts to a push. Take a 1-1 draw.
For more on Major League Soccer, visit Goal.com's MLS page and join Goal.com USA's Facebook fan page!