On Form


Houston Dynamo:
After his great headed goal against San Jose, as well as a solid display of defending, Andrew Hainault deserves this distinction. Houston's attacking players had trouble finishing their chances against San Jose last week, but Hainault bailed them out. Well, San Jose's epic tank job bailed them out, but that's another story for another column. It was a good win for Houston last week, but in all honesty, San Jose didn't look like they were giving maximum effort. And really, why would they? With a playoff spot locked up and the East looking week, ensuring a trip to the right coast with a loss was a smart move. Regardless, a win was good for Houston's momentum going into next season.
Seattle Sounders FC
: The Rave Green head to Houston riding a five game winning streak. They also are tied for second in the league with six road wins. Left winger Steve Zakuani hit double digits in goals in last week's 2-1 victory over Chivas USA. He was named the MLS Player of the Week for his efforts. Right winger Sanna Nyassi has four goals in his last four MLS and U.S. Open Cup competitions. Expect the duo to cause havoc from both sides of the pitch with their crosses and runs into the box.
Off Target
Houston:
Everyone that isn't Andrew Hainault. Despite San Jose mailing it in and Houston creating 15 shots, Hainault was the only player able to put one in the back of the net. Dominic Oduro and Cameron Weaver weren't on their A game and Dominic Kinnear didn't bother to use Brian Ching since he didn't feel like his need needed insuring or protecting. Houston could probably stand to add a new striker in the offseason.
Seattle:
Kasey Keller stepped in unexpectedly for substitute 'keeper Terry Boss in a meaningless Champions League game for Seattle on Tuesday against CD Saprissa. Keller started when Boss apparently suffered an injury at training. The veteran 'keeper appeared to be unfocused on the first goal when he and his defender failed to control the ball as it entered the penalty area. Saprissa's game winning strike occurred in the 89th minute. The ball hit the top part of Keller's extended hands and into the net.
Tactics
Houston:
Kinnear didn't deviate from his normal 4-4-2 setup, but he did make an interesting decision by starting academy goalkeeper Tyler Deric last week. He performed well and there's no reason to believe that he won't get another run-out against Seattle Sounders. This game could also see a run-out for youngster Fernando Navas Cobo, who was named on the bench but did not appear against San Jose. Kinnear already knows what Lovel Palmer and Brad Davis give him, why not give the kid a shot? Starting Deric didn't burn the team and Seattle don't exactly have any incentive to give maximum effort and bulldoze the kid. Give him a run-out and see what he can do.
Seattle:
Forward Fredy Montero will sit out this match due to yellow card accumulations. Head coach Sigi Schmid will likely start Nate Jaqua, who scored the lone goal in the Saprissa match with Blaise Nkufo up front. With nothing to lose, there's no reason to deviate from the 4-4-2 that's been effective the second half of the season. The Sounders are 10-1-3 in their last 14 games.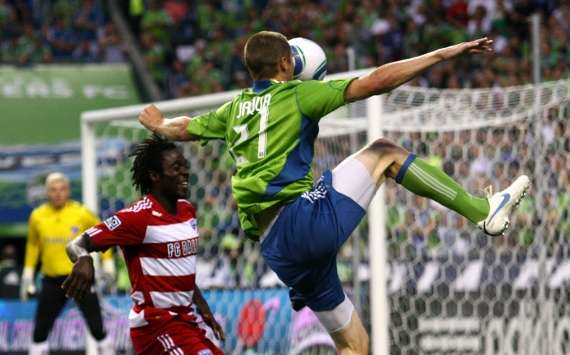 Intangibles
Houston:
Hopefully for the Dynamo, they can end the season on a positive note for themselves and their fans. They end the season at home, where tens of thousands of people continue to show up despite a terrible team playing on a field with gridiron lines. A win would be great for momentum, but more important for the fans. Houston's fans deserve better than they've gotten this season. They'll all tell you that they're Dynamo fans win, lose, or draw, but they deserve more wins.
Seattle:
With a lineup composed mostly of subs in the midweek Champions League game, the Sounders should be well rested. Schmid will want to use this game to fine tune his squad's mental and physical preparation prior to the start of the playoffs.
Prediction
Houston:
Seattle might bench some stars and Houston will be motivated, but loose. I think Houston will win 2-1, which is in no way indicative of the quality of the two sides; Seattle is an obvious MLS Cup contender.
Seattle:
The Sounders continue their winning ways on the road. Seattle Sounders FC 2 (Fernandez, Nyassi) - 1 Houston Dynamo (Oduro).
For more on Major League Soccer, visit Goal.com's MLS page and join Goal.com USA's Facebook fan page!