In a low scoring match, Houston gets its first ever home win against New England.
Watch complete live match coverage of Major League Soccer every week on FOX Soccer! For a complete broadcast schedule, click here

There was late drama at Robertson Field as Houston got their first ever result at home against the New England Revolution. The addition of Rajiko Lekic and the return of Matt Reis to the Revolution lineup was not enough to get a result for New England.
First Half:
New England came out with a true 4-3-3 formation for the first time this season against the Houston Dynamo Sunday evening. The Revolution were without midfielders Sharlie Joesph and Pat Phelen due to suspension so Steve Nicol was forced to make changes to the lineup.
Houston started the half having most of the chances on offense. In the fourth minute, Dynamo midfielder Brad Davis found the ball in space and put a shot on New England Goalkeeper Matt Reis from 18 yards out . Reis struggled to hold onto the ball and the rebound was found by Houston forward Will Bruin who's shot was stopped on the line by Revs defender AJ Soares.
New England had a great chance on goal in the 15th minute. Newly signed forward Rajiko Lekic provided a great ball across the goal towards Revs forward Zack Schilawski. Schilawski could not connect on the ball as he was wrapped up by Houston defenders.
Dynamo forward Cam Weaver played a beautiful cross in 17th minute that was headed just wide by Bruin. Poor possession of the ball by New England midfielder Marko Perovic caused the offensive chance.
Houston exposed New England's new formation in the first half. The outside defenders of New England pushed up very close to the midfield and Houston used this the space behind them and lofted many balls overhead.
The Revs' defensive strength allowed them to make crucial stops against the Dynamo's attack. Late in stoppage time, Revs midfielder Chris Tierney dropped back to clear a ball that was crossed into the box for Dynamo midfielder Danny Cruz . Tierney's inteligent positioning prevented Cruz from putting the ball on net.
Second Half:
New England did not gain any momentum offensively at the start of the half. Passing in the opponents half continued to be a major issue for team.
The first major opportunity of the half was off of a Houston corner in the 57th minute. The corner was delivered into the 18 yard area which bounced toward Cam Weaver. Weaver took a shot which was deflected by Will Bruin. The ball was once again stopped on the line by New England midfielder Zack Schilawski.
Schilawski's clearance was gathered by Revolution forward Rajiko Lekic. Lekic streaked down field on the counterattack and played a great ball to Marko Perovic but play was broken up. This seemed to be New England's best chance in the second half.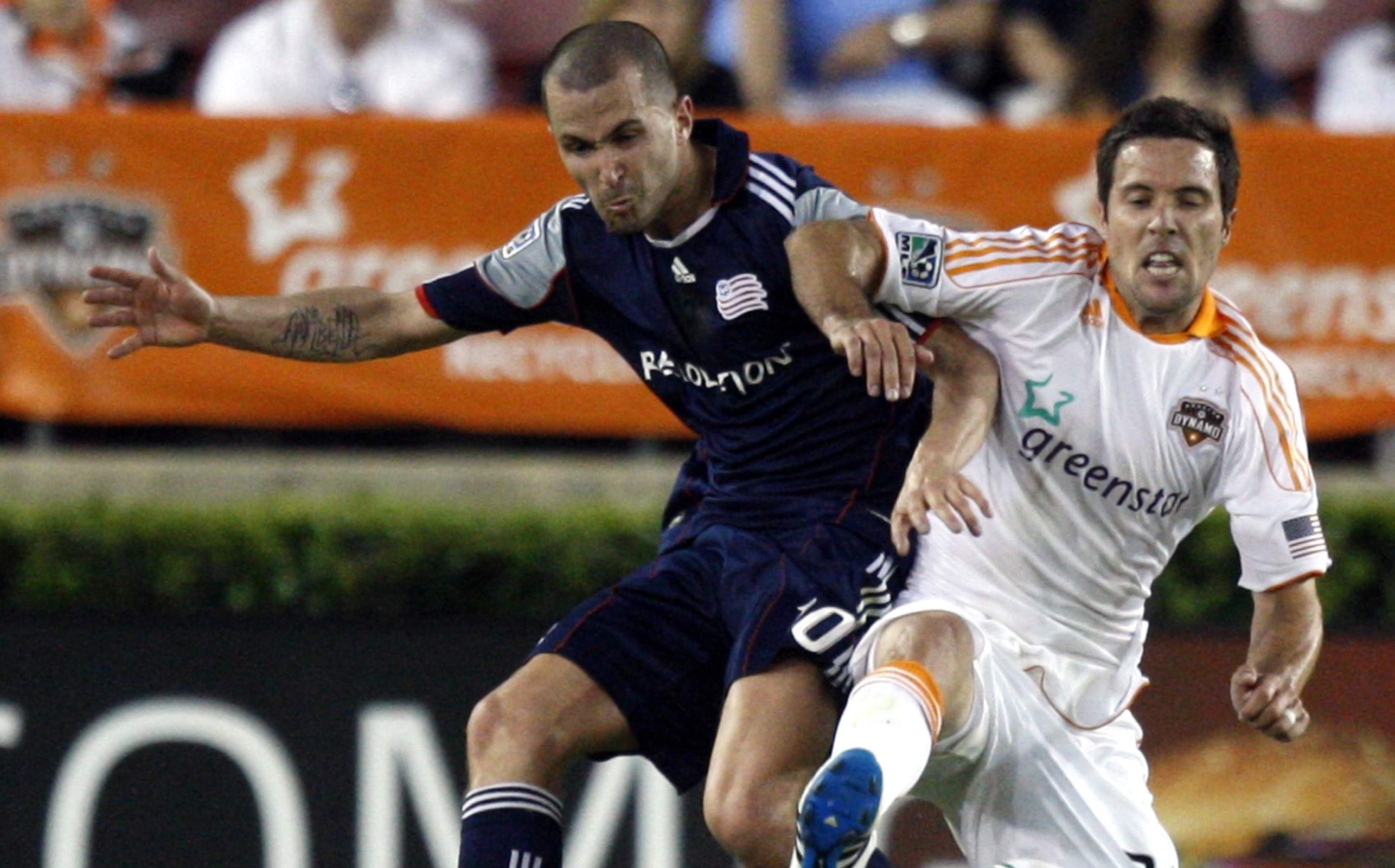 Lekic| New England debutant fought hard, didn't find paydirt
Houston had another great chance as Danny Cruz provided a great through-ball towards Bruin who earned a break away on Matt Reis. Reis was quick to come off his line and shut the play down in the 73rd minute Danny Cruz was injured while creating the play and had to be replaced by Dynamo midfielder Collin Clark.
New England coach Steve Nicol was also forced to make a substitution due to injury in the 79th minute. Central defender Franco Coria was feeling some pain in his hamstring and New England defender Ryan Cochrane came into replace him.
The Dynamo finally broke the deadlock on a goal set up by a corner in the 86th minute.
Geoff Cameron headed the ball from the corner and hit it off the cross bar awkwardly.
Houston defender Hunter Freeman used his body to win the ball against Matt Reis and pushed the ball over the line for a late goal. There was much controversy after the goal as replays show the ball hitting Freeman in his hand.
Yet Houston won't complain as it earned its first home ever win against New England.

Post Game Notes:
Danish international Rajko Lekić made a solid impression in his debut for New England. The 6'2'' target man forward created solid scoring opportunites with his ability to open up space and pass the ball. Lekić might have been more threatening if the Revs had their full complement of players available. Head coach Steve Nicol acknowledged this during his postgame press conference.
"Every team wants all their players available, unfortunately we didn't have that," said Nicol. ""In the first half we tried to generate some stuff at the other end; in the second half we couldn't get anything going. I thought we defended really well. The real problem we had was set pieces. We challenged really well."
For more on Major League Soccer, visit Goal.com's MLS page and join Goal.com USA's Facebook fan page!