D.C. travels to Texas for the week's lone Friday night game.
On Form:
D.C. United:
Branko Boskovic. Despite being healthy for most of the season, Boskovic had seen little time on the field for United before the game against New York. With United down two goals, Ben Olsen threw Boskovic on, and it looked like the Montenegrin might be able to pull the Black-and-Red back into the game. Of course, in the end, United lost the game, but Boskovic put in a performance worthy of earning a start against Houston. Boskovic also started the US Open Cup game against New England on Tuesday, and scored twice in another United defeat. The worry now is whether or not Boskovic can play against Houston, as he could not finish the match against New England due to a leg injury.
Houston Dynamo:
Houston got it done late again last week when Bobby Boswell equalized in the 83rd minute to save a point against Chicago. This is provoking a lot of questions about why they can't get it done in the first 80. Houston tries to hold the ball away from their opponents due to their lack of speed. Even though they do a fairly good job of this, they seem to finish their chances much more frequently late in the game.
Off Target:
D.C. United:
Conceding goals. The two main focuses this offseason for United were to fix the problems scoring goals, and conceding them as well. Scoring goals hasn't been a problem, although for the first time all season, they did not score in a MLS game during the defeat to New York. Conceding goals hasn't really improved though, as United have shipped 12 goals in just six games. The backline hasn't had time to really gel yet, but Olsen had better hope things work themselves out quickly.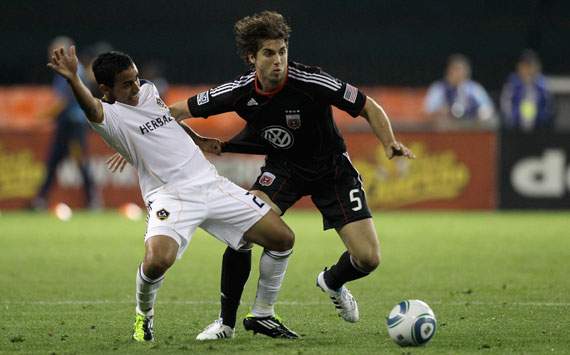 Dejan Jakovic | Will look to right United's defensive ship
Dynamo:
The first 80 minutes have killed Houston their last two times on the pitch. They just haven't have the same hunger earlier in games than they have shown late. They seem to be able to flip the switch in the final 10 minutes but how long can they keep going to that well before it runs out?
Tactics:
D.C. United:
It was evident against New York that Olsen should have started the match with five midfielders. Clyde Simms did a great job of eliminating the threat from Teemu Tainio, but Dax McCarty was then left with too much ground to cover, and United suffered because of it. Had Boskovic started instead of one of the strikers, United might have had a better chance in the game. Houston doesn't quite have the same sort of manpower in midfield as New York, which means Olsen will likely continue with his 4-4-2 (4-1-3-2) system.
Dynamo:
The Dynamo play a 3-5-2 and try to control the midfield and play their big guys up front. There isn't a lot of speed on the pitch but Corey Ashe provides a little help. Look for Houston to possess the ball and create chances from crosses and shots from the outside.
Intangibles:
D.C. United:
Andy Najar hasn't seen much playing time this season, but Olsen was elated with his performance during the Open Cup game against New England. That just might be enough to get back into the starting lineup, and with Najar in the lineup, United will always be a more dangerous team going forward.
Dynamo:
Houston has proved it can get points in tight games. If this one is close, they will certainly turn it on and try and get that illusive goal. They are also riding a three game unbeaten streak where they have played some impressive soccer at times.
Prediction:
Steven Streff:
Olsen hasn't quite figured out all the pieces to the puzzle yet, and with Jed Zayner set to come back into the lineup, the backline will go through another change. Expect a closer game than last week, but with the same end result. Houston 2 - 1 D.C. United.
Daniel Kurish:
D.C. United will be too much for them in the first 80 minutes. Davies will have two goals in a 3-1 victory.
For more on Major League Soccer, visit Goal.com's MLS page and join Goal.com USA's Facebook fan page!