The I-45 rivalry adds a new chapter as the squads face off from different conferences.
On Form
FC Dallas:
One goal this month, that's all the Hoops have surrendered. To say this defense has found its form would be an understatement. Aside from Real Salk Lake, there is no defensive line in the league that is playing like Dallas' is right now.
Houston Dynamo:
The Dynamo are in a slump, but there is no better time to get back on track. The front offices of both teams have already been attacking each other off the pitch, with a trash-talking billboard placed in Dallas that reads "Houston: Two Times Better Than Dallas" and a flying banner during a Dynamo game with the message "We All Hate Houston". It would mean a lot to the team and city of Houston to win this home game.
Off Target
Dallas:
Five goals, that's all Dallas has scored in that same time span. Like RSL, FCD is missing key cog in the attack, and like RSL, the club is struggling to cope. Of course, when you don't get scored on it's hard to lose, but win you don't score it's hard to win. Finding goals is the issue, and at this point FCD will take them from where it can get them.
Houston:
The Dynamo have not recorded a victory in their last five games, losing three and drawing two. In its previous game, Houston was unable to score in a 1-0 loss to the Los Angeles Galaxy. The squad only had one shot on target while remaining at third place in the Eastern Conference with 14 points in 12 games.

Tactics
Dallas:
Tactically the Hoops don't need to change. I feel like I say this in every preview, but right now it's all about find a way to score without changing the defense up. The team is in great shape and no matter which set of attacking players Schellas Hyndman runs out there the results seem to be the same.
Houston:
The Dynamo will need to attack better to have any shot of defeating such a solid defensive team. Brad Davis and Will Bruin will have to step their games up to get past Dallas' strong backline, but Houston's key to success could be Koke, who replaced Cam Weaver and made two straight starts.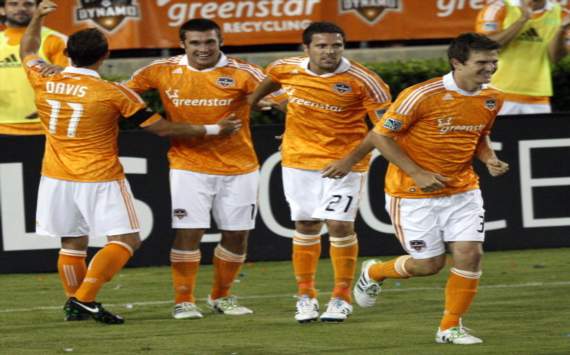 Intangibles

Dallas and Houston:
How many intangibles do you need? This rivalry is deeper than people understand, and it's not nearly as fabricated as some might think. North Texas soccer and South Texas soccer don't like each other much, and this match always has a little edge to it.

Outcome

Allen Ramsey:
Dallas fans are probably begging me to pick against them because every time I do the Hoops come out on top. Won't do it though. Dallas takes this 2-0.
Mike Slane:
Houston has played well at home, but Dallas has been good on the road. I'm going with Dallas recording another shutout in a 1-0 decision.
Keep updated with Major League Soccer by visiting Goal.com's MLS page and joining Goal.com's

page.