The Crew will head to the heat of Houston for a Saturday showdown.
On Form
Houston Dynamo:
Brad Davis is the man, and has been for some time now. It's hard to watch any Dynamo match and not walk away wondering how the midfielder doesn't get more credit for what he does. With great vision and control on the ball, Davis is one of the best players in the league and has been proving it time and again all year.
Columbus Crew:
Justin Meram has provided a badly need spark in the Crew attack, using his pace and ability on the ball to good effect, as the young forward turned winger has an assist and put in several dangerous crosses in his new found minutes. In his rookie year, the former Michigan striker has slotted in quite well into the left wing, a space usually occupied by Robbie Rogers, but with Rogers currently at the Gold Cup, Meram has excelled. In the 1-0 loss to the Fire, Meram was a threat down the flank until a slight knock and a yellow forced Robert Warzycha to substitute Dejan Rusmir for Meram, and the Crew never looked the same after that move.
Off Target
Houston:
Consistency is still elusive for Houston. The club doesn't struggle with playing well, but struggles with finding results. And professional sports are driven by results. Playing the Crew in Houston should give the Dynamo a chance to earn back to back wins for the first time since April.

Columbus:
For only the third time in club history, the Columbus crew failed to register a shot on target, and the first time since 2003. The Crew did manage eight shots, but the closest they came were early efforts by Eddie Gaven and Andres Mendoza that both were wide left of Sean Johnson's goal. For a offense that looked vastly improved in a 2-1 victory over Real Salt Lake, this display of futility was a few steps in the wrong direction for a club that was looking like they were turning a corner in their season. With a revolving door lineup of strikers, it is not surprising that every once in a while they would shoot blanks, but those kind of days have occurred too frequently the past two seasons for Crew fans liking.
Tactics
Houston:
Tactically Houston's biggest strength is in creating chances. Davis carries the load in that department, but the goalscorers have been inconsistent. The return of Brian Ching should help and could force a change sooner rather than later in Houston's starting team up top. Other than that, the team is in good shape and should stick to much of the same style of play that it has used over the past few weeks.
Columbus:
After his impressive showings against New York Red Bull and Real Salt Lake, Robert Warzycha gave young Justin Meram his first MLS start on Sunday, and while this was a good sign of a attack minded lineup, it tied the Crew gaffers hands when it came to his bench. With three forwards in the starting 11, and both Emilio Renteria and Tommy Heinemann out through injury, 19 year old Aaron Horton was the only offensive player that could have been brought off the bench. This could be blamed on the 11 man injury report, including Bernardo Anor and Santiago Prim, who are also forwards, and these factors in combination may have forced the Polish Rifle's hand.
Intangibles
Houston:
It's hot in Texas. It's been hot around the country of late, but Houston is usually on a different level. The humidity and heat will be brutal on Saturday night and the Crew will have to come out with that in mind.
Columbus: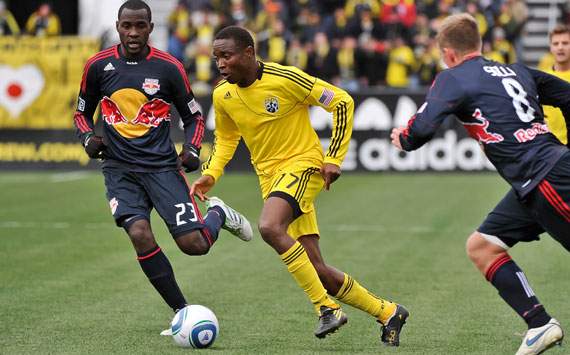 The Crew have never won at Robertson Stadium, with a 0-1-4 record and have only scored three goals. The three points the Crew dropped against Chicago may come back and hurt the Crew this weekend in the summer Texas heat. Also, it is another Big 10 rookie showdown as Justin Meram (Michigan) and the Crew take on Will Bruin (Indiana) and Houston.
Predictions
Allen Ramsey:
It should be a good night for the home team. 3-1 in Houston's favor.
Justin Henley:
The Crew go into Robertson Stadium with revenge on their mind after losing unexpectedly to Chicago, but Houston weathers a early storm and comes out on top with a 2-1 victory.
Keep updated with Major League Soccer by visiting Goal.com's MLS page and joining Goal.com's

page.