Reduced to nine men in the 78th minute, Guatemala held on for a valuable draw. One of Central America's fiercest rivalries captivated The Home Depot Center as Honduras and Guatemala played to a 0-0 draw in their first game of the 2011 Gold Cup.
With fans of both nations screaming to the top of their lungs in support, the teams played out a physical, dramatic contest that at times was disrupted by sloppy play, and featured two red cards handed out to Guatemala.
Honduras and Guatemala now sit in second place in Group B with one point, two behind Jamaica, who took down Grenada 4-0 earlier in the day.
The scoreline nearly changed minutes into the game when Carlos Costly almost fired home from close range. Alone against Ricardo Jerez, the striker pushed his shot wide of the post, much to the dismay of the Honduran supporters behind the goal.
The game proceeded to open up as both speedy squads went forward for the early advantage.
Both teams made several errors in the middle of the pitch in the early going, turning the ball over on numerous occasions.
The Guatemalans began to take control of the match after 15 minutes, looking to play Carlos Ruiz into the box. However, several attempts to find the nation's top scorer failed.
Guatemala's best chance came halfway through the half when a ball finally found Ruiz, who settled the ball in the box, laying it off to Marco Pappa, who drilled the ball over the goal.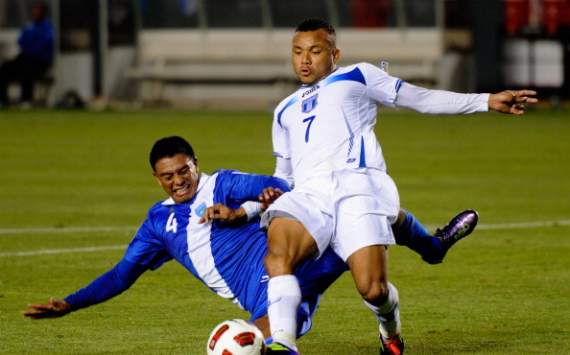 Carlos Castrillo introduces himself to Emil Martinez of Honduras
Oscar Boniek Garcia nearly put the Catrachos up moments later when he beat the Jerez to the line before firing low, but Cristian Noriega cleared it off the line with ease.
In the ensuing minutes, both teams failed to test the opposing goalkeeper, sending shots off target.
Just as Guatemala gained control of the tempo, Honduras nearly struck after a violent shot by Garcia hit off the crossbar, falling to Jerez, who laid on the ground after attempting to make the save on the Olimpia winger.
In the second half, Guatemala continued to push forward, showing poise and energy to control its neighbors.
Honduras turned the tide 15 minutes in, moving forward with vision and quick passes. But Jerez was stellar, coming off his line well and disrupting the attackers with his jumping ability and timing.
Gustavo Cabrera was awarded his second yellow card for a questionable tackle in the 61st minute, leaving Guatemala with one less player and less momentum.
Henry Medina would see a second yellow card for a foul 12 minutes from time, leaving Guatemala with nine players and 12 minutes to hold on for a tie.
Guatemala's defense held strong though, and the Hondurans were unable to find the breakthrough in the end.
Honduras will take on Grenada, who fell 4-0 to Jamaica, on Friday. Guatemala will take on The Reggae Boyz on the same day.