The two giants of European and world football confront each other in this exciting fixture.
Avenging World Cup Defeat
Germany were on course to the final of the 2006 World Cup held in their own country until Fabio Grosso and Alessandro Del Piero struck in the extra-time period for Italy in the semi-finals. The 2-0 loss saw Die Mannschaft head towards the exit while the Azzurri went on to lift the World Cup trophy for the fourth time in their history.
Since then, though, it's been a tale of stark contrast, with one side developing and progressing in leaps and bounds while the other radically spiraling down into the abyss. Germany reached the final in Euro 2008 and the semis in the World Cup in the summer, while Italy lost to Spain in the last-eight in Austria and Switzerland and failed to get past the group stage in South Africa.
Yet tonight the small matter of revenge will be weighing on Germany's minds, who would love to bury the ghost of the 2006 disappointment at the same venue. However, coach Joachim Loew, who replaced Juergen Klinsmann in 2006, is not taking Italy's new-look and youthful squad lightly and warns, "We don't have a very good record against Italy. Germany have always struggled against them because they are very defensive and concede very few chances against every big nation.
"They have known how to defend for years and decades and they know how to take the speed out of a game and bring their opponents out of their rhythm. They also have great individual players so I think it will be an interesting game which will ask a lot of us. It is our first game after a long break and so it will be important to carry on from where we left off last year."
In 29 matches contested between the two teams, Italy have won 14 while Germany just half as many, with eight remaining games having ended in draws. Loew is assertive of the need to set the record straight and stresses, 'We haven't beaten Italy for nearly 16 years, from those statistics, you can see they are a team we have feared in the past. I want to break that record, that is our goal. We want to continue last year's trend."
Reconstructing Greatness
The last four and a half years years in Italy's illustrious footballing history has encompassed one of the worst eras. Since their World Cup triumph in Berlin in 2006, the Azzurri have fallen off the pedestal and have flirted with one disaster after another. Under Roberto Donadoni, the former European and world champions failed in the European Championships in 2008 and in the summer last year Marcello Lippi, who led Italy to success in Germany, failed miserably to spark any inspiration or positive note whatsoever.
Cesare Prandelli has commenced to reconstruct a Italy team that still desperately lacks truly great players. The former Fiorentina coach has decided to integrate young, promising Italian players as well as those left out of the unit by Lippi because of non-footballing reasons such as Antonio Cassano, and this is only going to help them in the long run.
Prandelli is relishing the chance to take on Germany once again and reflects, "It is always a fascinating match. I would play a friendly against Germany once every year, there are so many good memories attached to these games.
"In Mexico City (in 1970), I was little and I was woken up to watch the game; in '82 I had lots of friends playing and in 2006, it was an extraordinary semi-final. It was only then that you could tell that Marcello Lippi's team could win the World Cup."
However, the 53-year-old is in no doubt that it will be a difficult encounter tonight and warns, "I expect a difficult game, but I don't fear a collapse from the team. Against Germany it is an important game for many reasons. We are not here to listen to what people say, but to continue on our road.
"Apart from what we are expecting, I want to see a squad with courage on a difficult pitch and a team that will play for the game."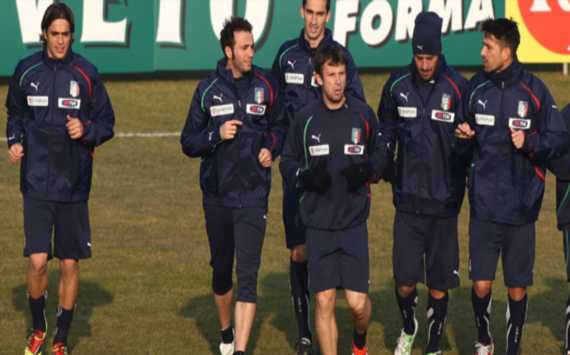 TEAM NEWS

Germany
Loew has remarked that only two positions are yet to be filled in his starting line-up, which means that the left-back and one of the two center-backs slots are up for grabs.
Manuel Neuer will start in goal behind Lahm (at right back) and Per Mertesacker (centre-back). Bastian Schweinsteiger and Sami Khedira will be the two defensive midfield pivots in a 4-2-3-1 formation that will have Miroslav Klose as the target-man upfront with Thomas Mueller, Lukas Podolski and Mesut Oezil just behind him.
Italy
Prandelli has confirmed his starting line-up, which will follow a 4-3-3 design. Gianluigi Buffon returns between the posts and Mattia Cassani, Leonardo Bonucci, Andrea Ranocchia and Giorgio Chiellini will shape up the backfour.
Brazil-born Thiago Motta will make his debut for Italy in midfield alongside Riccardo Montolivo and Daniele De Rossi, while Stefano Mauri, Antonio Cassano and Giampaolo Pazzini will form the front-three.

Follow Goal.com on

to get the latest soccer news directly. Check out Goal.com's

page; be part of the best soccer fan community in the world!