On Form
D.C. United
: This weekend, it's all about Jaime Moreno for D.C. United. After a long and illustrious career in Major League Soccer, United's Bolivian striker will be playing his last match as a member of D.C. United, with retirement likely. It's been a tough season for United and Moreno in 2010, as United will end up as the league's worst team and with the lowest amount of goals ever scored in a season. Moreno hasn't featured much this year and has just one goal to show as well. This game, however, is meant to be a celebration, and Moreno will have one more chance to shine in the Black and Red.
Toronto
: The hurting's almost over! For both the Reds and DCU, Saturday can't come soon enough and the off-season will be a welcome reprieve from what turned into nightmare seasons for the pair of clubs. The lone bright spot in the past few weeks for Toronto has been the emergence of their youth, namely Nicholas Lindsay. Having played in the Champions League earlier in the year, the TFC Academy grad made his MLS bow in a 3-2 loss at Seattle last month and starred in his home debut last Saturday in a 2-2 draw with the Crew. Using a stunning amount of pace and field vision that belied his 18 years, Lindsay was a nightmare for Gino Padula and the rest of the Columbus back four and set up Jacob Peterson's first-half goal with a fine cross.
Off Target
D.C. United
: As previously stated, it's been a rough year for one of the league's founding teams. Minus a semifinal cup run in the U.S. Open Cup, and the emergence of Andy Najar and Bill Hamid, nothing has gone right for United this year. From the top down, this has been a miserable season, and United fans will be finally happy to see it come to an end. So collectively, D.C. United as a whole earns the off-target moniker, for such a wasted season.
Toronto
: You know it's been a bad week when your club is featured the continent over on sports broadcasts for all the wrong reasons. The last couple of minutes of Toronto's 2-2 draw with the Crew last weekend will be on blooper reels for quite a while, as the Reds conceded an injury-time goal to Columbus goaltender Will Hesmer. Sadly, that was a fitting end to TFC's home campaign for 2010. Looking back on the year and the way that the Reds finished up at home, it's almost inconceivable now to think that TFC once held a 13-month undefeated streak at BMO Field. Toronto will begin 2011 having not tasted home victory since Aug. 7 versus Chivas USA.
Tactics
D.C. United
: Give the ball to Moreno. This weekend is about him, and, luckily for United and their fans, he is fit and read to go. Should United manage to look like a capable team against Toronto, expect Moreno to be the focal point. His teammates understand the magnitude of his departure and would love nothing more than to see #99 get at least a goal in his last game. It might hurt United in the game if they focus too much on Moreno, but a goal from the Bolivian trumps any possible result.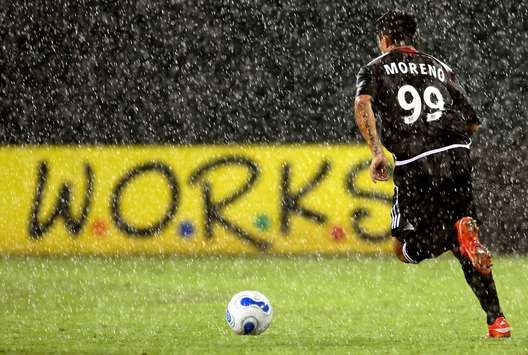 Toronto
: It's really hard to gauge what sort of team Nick Dasovic will field in what amounts to a garbage game. Last weekend, missing Dwayne De Rosario due to suspension, Dasovic chose to play with Maicon Santos as his lone man up front. With DeRo back and injuries at a minimum, TFC's interim gaffer should be able to field a first choice squad, but the play of Lindsay and other kids like Doneil Henry in a 1-0 midweek Champions League victory over Arabe Unido might force them into the starting XI. What is certain, though, is that several of those dressed for Toronto in their final match of 2010 won't be wearing a TFC shirt to open 2011.
Intangibles
D.C. United
: United would love nothing more to send off Moreno with a win and a goal. Moreno would love nothing more than to walk away with a goal and a win. Is that enough?
Toronto
: Both the Reds and United are clearly teams in flux and it's rather fitting that these two clubs meet each other in the final weekend of the season. The last several weeks (or months, in the case of Ben Olsen) have been extended auditions for each team's manager and it will be interesting to see whether or not ownership has enough faith to remove the "interim" tag from both men's titles. There is a school of thought that believes that change must be done in whole and there will be a massive overhaul for both teams in the off-season, but it's short-sighted to sack the manager if there truly isn't a better option available. Now, I'm not saying that there won't be (and very likely, there will be a ton of fine management candidates available this winter), but the dismissals of both Dasovic and Olsen should not be open and shut cases. Either way, a large number of people that you'll see on the pitch on Saturday, both players and coaching personnel, might be looking for work as early as next week.
Prediction
D.C. United
: It's going to be an emotional day for all in the United organization, but United will get the 1-0 victory, thanks to a goal from the penalty spot from Moreno.
Toronto
: United does its best to send supporters home without a bad taste in their mouths with a 1-0 win over the Reds.
For more on Major League Soccer, visit Goal.com's MLS page and join Goal.com USA's Facebook fan page!