Charlie Davies could be back fully fit for D.C. as it hosts San Jose.
On Form
D.C. United:
For the first time since 1932, D.C. United is on a five game unbeaten streak. Such a thing looked impossible after the 4-1 loss to Houston, which was the club's second consecutive game conceding four goals. Since then though, United has won two games, drawn three, while scoring six goals, and conceding just four. Ben Olsen has finally figured out how to get his defense working together, and one of the younger groups in the league is actually getting the job down. The group, with an average age of 12, is coming together in a way that United hasn't actually seen since the 2008 season, and is cause for optimism.

San Jose Earthquakes:
Everything is going right for the Quakes. In MLS regular season action, San Jose hasn't lost since April, stretching five matches (3-0-2), including its third straight home win last Saturday -- 2-0 over the Houston Dynamo. After a scoreless first half, Steven Lenhart netted his first goal (in MLS regular season play) as an Earthquake, and Simon Dawkins sealed the match with a stoppage-time goal. Jon Busch saved five shots in notching his third clean sheet of the season.

Off Target
United:
Charlie Davies started the season off hot, but injuries have caused the striker to fall out of form, and he hasn't scored since May 4, when he netted the winner against Seattle. The injury he picked up against Colorado has kept him from starting since, but the chance that he missed against Los Angeles last week cost United all three points. Having been played in beyond the defense, Davies rounded the keeper, but with time, he sent a shot wide of the open net. An in form Davies puts that away. It's tough to pick on the guy while he is still getting back into form after the accident, but his form might keep him out of the lineup when he is back fully fit.
San Jose:
For good measure, the Quakes trotted out their reserve squad on Monday in San Jose against the Los Angeles Galaxy reserves. Sercan Guvenisivik made a statement for some top-squad consideration with two goals, leading his club to a 3-0 win. Rookie Ellis McLoughlin continued to show his talents with a goal of his own. San Jose will most likely need McLoughlin's services in the next several weeks when it will be without Chris Wondolowski (with USA at the Gold Cup).
Tactics
United:
According to the infallible MLS website, Davies is no longer listed on the injury report. Things could change between now and Saturday of course, so tactically, the question for Olsen is who does he start up top against San Jose? I'm not one of those tactical magicians, but with the size of Bobby Burling at least one target man is needed. Either Blake Brettschneider or Joseph Ngwenya fits that bill for United, but look for Brettschneider to get the nod again from Olsen. Then it's down to Josh Wolff or Davies, and with the lesser experienced Brettschneider on the team sheet, Olsen will likely opt for Wolff to wear down the defense before bringing on Davies in the second half.
San Jose:
Coach Frank Yallop is going to need to test out some new personnel while the CONCACAF Gold Cup is ongoing. Yallop's club will be without two regulars -- Wondolowski with USA and Ryan Johnson with Jamaica. In Saturday's win, Yallop, continuing to use the 4-4-2 formation, had Ramiro Corrales -- typically playing on the back line -- at striker, alongside Lenhart. Steven Beitashour filled in for Corrales and performed well. Along with McLoughlin, players that will see extended time may be fellow rookie Anthony Ampaipitakwong and Simon Dawkins.

Intangibles
United:
Saturday night is Andy Najar Bobblehead Night. Only 10,000 are available, so United players are bound to get to the stadium early to get theirs. And if you can't get up for Andy Najar Bobblehead Night, then your commitment to the team and league has to be questioned.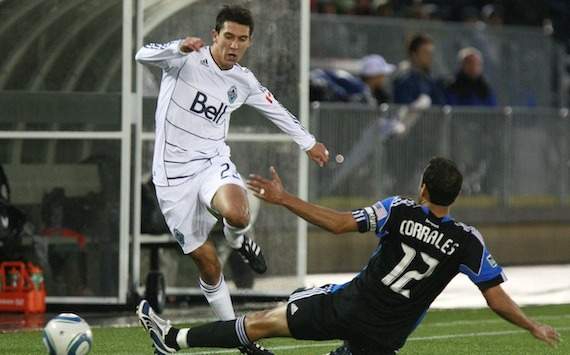 San Jose:
Through all the position players moving around, there's one constant with the Earthquakes that has helped them get back on track after the early-season struggles. That, of course, is goalkeeper Jon Busch. Busch has played all 12 matches, logging 1,080 minutes, saving 42 of 56 shots. His 1.17 goals against average is 11th best among regulars, but his leadership helps his back line remain focused for 90 minutes.
Outcome
Steven Streff:
I've been useless recently when it comes to predicting United games, so I will go for a 2-1 United win, and completely ignore it once the game starts.
Giovanni Albanese Jr:
In the weaker Eastern Conference, D.C. United has positioned itself in third place with a 4-4-4 record and 16 points. San Jose, with an identical record as D.C., sits one spot from the bottom of the Western Conference. With tougher competition through the season, and the strong stretch of play, the Quakes should play well and come away with a point. San Jose 2-2 D.C.
Keep updated with Major League Soccer by visiting Goal.com's MLS page and joining Goal.com's

page.