The Eastern Conference teams dig into the Atlantic Cup duel.
On Form
D.C. United
: In the first three games of the season, D.C. United conceded seven goals with Pat Onstad in goal. But with Bill Hamid back in goal, United have conceded just once in two games, as they have picked up four points out of six possible. Hamid hasn't been called upon as much as Onstad was, but when he has been needed, Hamid has been in the right place at the right time. With the youngster controlling the back line, the United defense seems much more organized.
New York:
The Red Bulls currently have the luxury of three on-form strikers. Juan Agudelo has been a consistent attacking player any time he has been on the pitch. Thierry Henry finally opened his goal scoring account last week against San Jose. Third striker Luke Rodgers notched the MLS Player of the Week award last week, with a brace and an assist against the Earthquake. The Red Bulls defense and midfield play has been equally strong, and the Red Bulls look to be strengthening after a lackluster start to the season.
Off Target
United:
Charlie Davies. Okay, no, that isn't actually right. Fact is, United is coming off of a strong performance against Toronto, and it's tough to pick out much that went wrong. After the Los Angeles game, Ben Olsen was disappointed that his side played too many long balls, when he thinks they would be better off playing the ball on the floor. Although they did better against Toronto, one performance doesn't really change everything. It will be interesting to see if United tries to pass the ball around Rafael Marquez and Tim Ream on Thursday.
New York:
It's tough to criticize the team after a comprehensive 3-0 victory last weekend, and even tougher to call out a defense that recorded a clean sheet. But it is vital for USMNT central defender Tim Ream to be more careful with his distribution in the back. Two weeks ago his distribution problems lost the game in Philadelphia, and he did not look fully confident passing the ball against San Jose. The Red Bulls (Ream, Marquez, DeRosario, Tainio) love to pass the ball around the defensive middle of the field, and they must be more careful in doing so, or they will get caught by an opportunistic DC United .
Tactics
United
: Olsen loves his 4-4-2 (or 4-1-3-2 if you will), and really hasn't deviated from it yet this season. The two banks of four has worked well for the most part, but United do struggle against teams with hard working center midfielders. The Colorado loss isn't a good example, but the loss to New England and the draw against Los Angeles highlighted United's inability to create goal scoring chances, and work through the midfield. One must wonder if at certain times, and against certain teams (like New York), if Olsen would help his team out by playing another midfielder instead of a striker, to create a middle three to control the game. Branko Boskovic would be the perfect piece to play alongside Dax McCarty and Clyde Simms.
New York:
Newly acquired star Dwayne DeRosario is beginning to settle into the Red Bulls midfield. Defensive midfielder Teemu Tainio has been arguably the Red Bulls' best player this year. The Red Bulls' attack goes through the middle. If they can work the ball from defense to Tainio to DeRo, they can be extremely dangerous in attack. The outside backs Miller and Solli also enjoy getting forward in attack. Look for a 4-4-2 formation with a diamond midfield.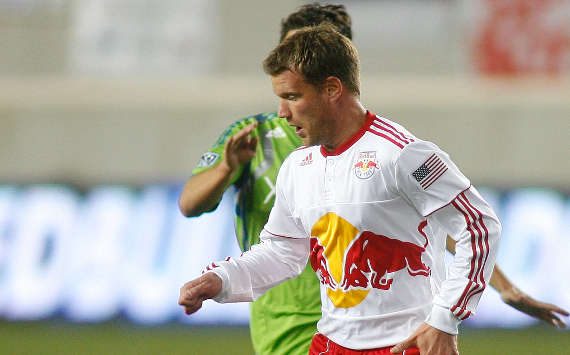 Teemu Tainio has been a quality addition to New York
Intangibles
United:
United has historically dominated New York, but last year, the Black-and-Red lost the Atlantic Cup for the first time since 2003 -- when the Red Bulls were still MetroStars. That should provide United with some added motivation to win the game. Oh, and yeah, Davies will be starting this game again. He's only been good for five goals in 4 games this year -- scoring in every game he has played.
New York:
Red Bulls manager Hans Backe has a selection issue up top. New York's 4-4-2 formation leaves one of their three quality strikers on the bench. It will be interesting to see if he keeps the generally preferred pairing of Agudelo-Henry, or if he sticks to the Rodgers-Henry paring that produced three goals last weekend. Juan Agudelo has played on the wing this year as a substitute for Jamaican Dane Richards. If he can find the best starting XI, the Red Bulls should be able to beat any team in the MLS.
Outcome
Steven Streff
: Both teams are coming off of strong performances in 3-0 wins last week, which will make this a good game. New York have a good squad, but haven't quite found their rhythm yet. After losing the 2010 Atlantic Cup to NY, D.C. will take the first leg this year, 2-1.
David Katz
: The good goal-scoring form of the Red Bulls continues against a strong DC side. New York win 2-1.
For more on Major League Soccer, visit Goal.com's MLS page and join Goal.com USA's Facebook fan page!