The Hoops head to the capital to take on Charlie Davies and DC United.
On Form
D.C. United:
Andy Najar hasn't played much this season, which is surprising considering the fact that he is the reigning MLS Rookie of the Year. But for one reason or another, Ben Olsen hasn't looked to the youngster much this term. But when he has played, he has brought an extra element of attack to United, especially in recent weeks. He was finally rewarded with a start against Seattle, and managed to have two assists in United's 2-1 victory. That's one more assist than he had all of last season, and the performance should mean that Najar will be starting on a regular basis now. The two biggest benefactors of Najar's presence on Wednesday night were Charlie Davies and Josh Wolff, who both notched goals.
FC Dallas:
You have to give Brek Shea credit for netting the winner against the Galaxy last week. The lanky midfielder/defender provided a spark at just the right time to grab a nice win for the Hoops, and has made a bit of a habit of popping up in big spots and pushing his club forward. Fabian Castillo also deserves a bit of credit for grabbing his first goal.
Off Target
DC United:
Dejan Jakovic is still having his occasional troubles in defense, as he conceded his second penalty of the year. Ethan White struggled in the first half as well, but with Perry Kitchen playing out wide, the onus was on Jakovic to organize everyone. While United had a better night defensively, the Canadian international still had his shaky moments, one of which led to a goal that got Seattle back into the game. For the Black-and-Red to continue to win more games, Jakovic is going to have to learn how to keep his concentration for a full 90 minutes.
FC Dallas:
Eric Avilla has some big shoes to fill, and he'll have to be better going forward than he was last week. Not that the youngster was terrible, or anything close to it, but with David Ferreira out he has to become much more of a force. Playing against LA never makes that job easy for an attacking midfielder, and Avilla should be much better this week against United.
Tactics
DC United:
With Jed Zayner out injured, Olsen experimented with his backline, starting Kitchen at right back. There was an improvement -- given that United had conceded four goals in each of the last two games. Kitchen isn't a natural right back, and he did not add as much to the attack as Zayner or Chris Korb would, but he was able to shore up a woeful defense for United. With the daring attack of Dallas coming to town, it would not be a surprise to see Olsen stick with the same back four.

FC Dallas:
All seems to be well with the Hoops tactically. Zach Loyd should be in for Jair Benitez after the latter picked up and knock last week, but the rest of the team looks comfortable with how things are going for now and should look very similar to the team that played most of the match against LA.
Intangibles
DC United:
United still has a long ways to go this season to make the playoffs, but it might have just saved its season on Wednesday night. A loss then might have doomed the team to the same fate of the 2010 United side. This game is almost just as important, so United should be ready to go, despite the quick turn around.
FC Dallas:
There is a huge cluster of teams (nine) sitting within three points of each other in the MLS standings. Dallas and United are part of that group with both clubs sitting on 10 points. At some point the cluster will start to break up and this match is a chance for either the Hoops or United to try and break away from the pack.
Outcome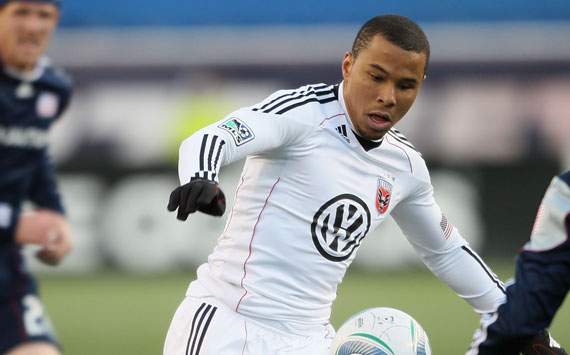 Steven Streff:
Dallas, while not to its 2010 level yet, will provide another stiff test at RFK for the Black-and-Red. But with Najar pulling the strings again, United will earn a point in a 1-1 draw, with Davies scoring his seventh goal of the season.

Allen Ramsey:
The consistency is starting to come for FCD with the defense starting to hit its stride. United should be a tough test in the capital, but the Hoops will grab a narrow victory. 2-1 to the visitors.
Follow Goal.com on

to get the latest soccer news directly. Check out Goal.com's

page; be part of the best soccer fan community in the world!