D.C. United hosts Colorado with both teams in good form. Will Colorado's solid road form or D.C.'s revitalized performances at RFK carry the day?
On Form
D.C. United:
Bill Hamid. United have kept just just two clean sheets this season, but Hamid has been in goal for both of them. Granted, he recently gave up eight goals in two games, but since then, he has conceded just one goal from the penalty spot in two games. Against Seattle, Hamid had three critical saves to earn United a win, and he did enough to keep a clean sheet against Dallas days later. He might still be raw, but he is at his best when making difficult saves.
Colorado Rapids:
Can you hear it? Colorado fans everywhere are cheering "Conor Casey!" The scrappy forward, who has been crucial to the Rapids' success, is expected to return to the pitch in D.C. after weeks of being on the injured list. Combine that with the Rapids' ability to effectively move dependable players like Kosuke Kimura around, the new defensive line-up, and you have the makings of a powerful squad.
Off Target
D.C. United:
Marc Burch. The left back has struggled in recent games, before he was replaced by Daniel Woolard at left back. The main reason for the switch was because Burch was injured, but now that the injury has passed, he might find it tough to get back into the lineup. Woolard has not been exceptional at left back, but he was done his job well enough. While Burch's last two games resulted in eight goals conceded, the two since with Woolard in the lineup have seen United concede just once. That's not all down to Woolard, mind you, but the fact that things have improved with him in the lineup might mean that Burch is on the outside looking in for the time being.
Colorado:
Even though Casey may be back, the list of forwards to pair with him are limited. Injury has been the biggest obstacle so far in the reigning champions season.
Tactics
D.C. United:
The recent run of results for United has come when Andy Najar is finally starting again, and there is no coincidence in that. Najar brings a different element of attack that United lacks otherwise. His ability to take defenders on helped set up the second goal against Seattle, and his passing ability also played a big part in both the goals scored against the Sounders. In addition to taking on players, he has the ability to cross the ball in, and his speed makes him an ideal target for long balls played out wide, which Santino Quaranta loves to do. He hasn't scored yet, but when he is on the field at right midfield for United, there is a balance to their attack.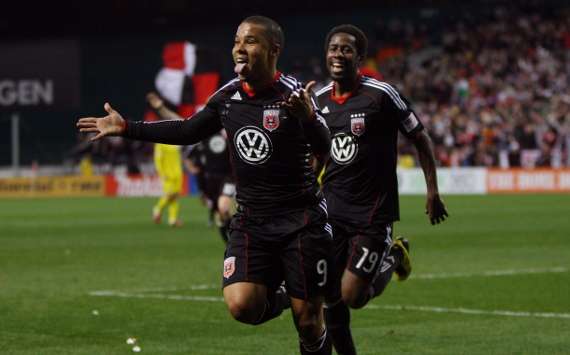 Colorado:
Last time these two teams met, Charlie Davies did not make the trip, and the Rapids won 4-1 at home. This time, they will need to focus on staying strong defensively, and make something happen when the ball crosses the half.
Intangibles
D.C. United:
Last week I said that United needed to do well to in their stretch of three home games to be serious contenders for the post season. Taking four points from Seattle and Dallas was a great way to start the home stretch, but finishing with another three points would be the perfect touch, and get the supporters thinking playoffs once again. With a opponent who has struggled of late, this might be the best chance for United to earn another three points before the return home once again.
Colorado:
The Rapids are proving they can succeed on the road. Having a veteran back on the trip will add to the level of confidence on the field.
Outcome
Steven Streff:
The two teams appear to be heading in opposite directions for the moment, but this is MLS, so the form book is usually nothing to go by. United start out strong, but Colorado come back to earn a 1-1 draw.
Stephanie Gardner:
Slowly, the Colorado Rapids are looking more like the team that started out the season with three straight wins. They will once again fight to the finish, and defeat D.C. 2-1.

Follow Goal.com on

to get the latest soccer news directly. Check out Goal.com's

page; be part of the best soccer fan community in the world!