Will Toronto's road woes continue as they travel south to take on a David Ferreira-less FC Dallas?
On Form
FC Dallas:
The Hoops' defense is on form after posting a clean sheet on the weekend. The group has seemingly rounded out and become the force it was last season after starting 2011 on a poor run. If Dallas can keep up the good defensive showings and find its attacking form then life will once again be good at FCD.
Toronto FC:
Joao Plata continued his run of form on the weekend against Houston, he was involved in both goals for Toronto on the way to their second win of the season. Julian de Guzman also put in an excellent 90 minutes for the reds, his pairing with Tony Tchani gave Toronto dominance in the midfield on the weekend.
Off Target
Dallas:
The ball movement and good play that pushed Dallas last season is lacking. While the simple answer is that David Ferreira is out injured, that can't be an excuse all season and the Hoops need to line it out quickly. It's hard to point to any one player as being off target right now, but the attacking group must find a way to create more changes and to put away the ones that are created.
Toronto:
The entire lineup had an overall solid performance against Houston and it is difficult to pin point any singular players out who were off form, quite possibly the reason for the comfortable win over Houston. Although after scoring their insurance goal, the team collectively sat back and relaxed which led to the Dynamo earning a lifeline in the final minutes.
Tactics
Dallas:
A few changes will probably come because of the quick turnaround between matches, but there won't be much in the way of a tactical shift. Playing Toronto should offer Dallas a chance to play a bit higher up the pitch than the matches against D.C. and L.A. did, so look for more pushing down the flanks from the fullbacks, and possibly a shift to Eric Alexander up front to rest Milton Rodriguez.
Toronto:
FC Dallas has struggled to find a replacement for MVP play maker David Ferreira, with three centralized midfielders Toronto should control the middle of the park. Maicon Santos will need a clinical finish similar to his goal against Houston to put one past Kevin Hartman. Look for Toronto to play compact until the later stages of the game, where a substitution or two could provide the spark to steal the game.
Intangibles
Dallas:
Dallas has only one loss at home this term and Toronto has yet to win on the road. A good sign for FCD.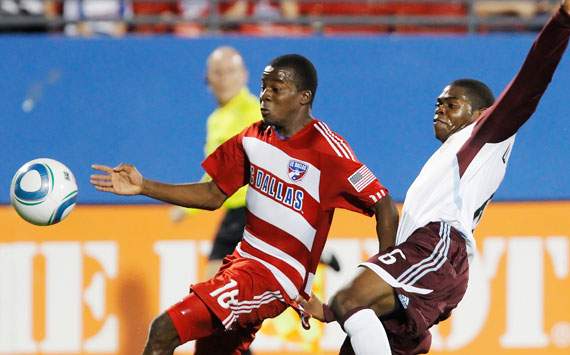 Toronto:
It will be a battle of roster depth, since both teams are coming off long travel time and a short rest period heading into the mid week clash.
OutcomeAllen Ramsey:
Dallas will be fine at home against TFC. 3-1 to the Hoops.
Kosta Christoper:
The mid week fixture will be a battle of possession with limited chances on two top quality keepers. FC Dallas 0-0 Toronto FC
.

Follow Goal.com on

to get the latest soccer news directly. Check out Goal.com's

page; be part of the best soccer fan community in the world!