Portland will get to feel the heat as it heads to Texas to take on FC Dallas.
On Form
FC Dallas
: Brek Shea has become a star in Major League Soccer. It's hard to make fun of Schellas Hyndman and his tactics, but clearly, given Shea's form as a goalscorer, the idea to have him start the season in the back is worthy of a laugh. Shea now has six goals and leads the team in scoring.
Portland Timbers
: Coming out of the locker rooms with a 1-0 halftime deficit, the Timbers erupted for three goals in a 20-minute span – Jack Jewsbury in the 48th, Kevin Goldthwaite in the 49th and an own goal by New York's Stephen Keel in the 68th – for a 3-1 lead. Uncharacteristically, though, at home, the Timbers allowed the Red Bulls to erase that second half two-goal lead with goals by Thierry Henry and Dwayne De Rosario in the 73rd and 95th minutes, respectively.
What's worse is that the de Rosario goal in stoppage time came after Timbers defender Rodney Wallace was whistled for a handball in the box. All in all, the Timbers put a hard-fought match in against one of Major League Soccer's most dangerous offensive clubs, and got a point out of it – although they lost two points in surrendering the lead.
Off Target
Dallas
: The defense is back in question after surrendering five goals in two matches. Sure, Chivas USA only scored once, but Dallas has relied on the back line all year and will have to do so going forward. Right now, the wall seems to have some leaks, and those will have to get plugged as FCD moves forward.
Portland
: Timbers defender Steve Purdy had his Gold Cup run with his native El Salvador come to an end Sunday in a PK loss to Panama. Purdy impressively ran the entire 120 minutes as the two sides were knotted 1-1 after regulation time. Panama pressured El Salvador all game long, holding onto the ball for 55 percent of the match, taking 33 attempts at goal, 12 shots on target, and 31 in-play crosses. But Purdy and the El Salvador back line were up to the task, thwarting all but one – a Luis Tejada goal in the 89th minute. Panama won in penalties 5-3 to advance to the Gold Cup semifinals against the United States. Purdy will now return to the Timbers to help their back line solidify.
Tactics
Dallas
: Tactically, Dallas needs to focus on being a bit more balanced. In some matches the numbers get forward and the defense is exposed and in other the numbers stay back and the attack looks ordinary. Finding the middle ground will be hugely important if this side wants to make another deep playoff run.
Portland
: Continuing to ride with his 3-5-2 formation, coach John Spencer saw much more production in terms of goals. In the two previous matches, the Timbers were shut out. On Sunday, Portland, with less than half of the possession of the ball, took 11 shots, putting three on target, and scoring three times (one an own goal). However, the defense broke down this go round, allowing three goals after having only allowed two in the previous two matches. Spencer will likely continue to go with the same starting XI and formation on Saturday in Texas.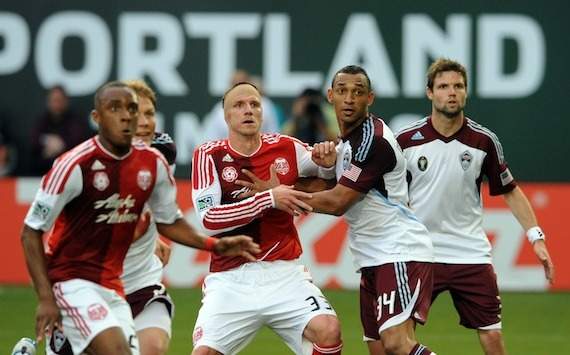 Intangibles
Dallas
: Heat is always a factor in Texas this time of year, especially when teams from the north come to visit.
Portland
: You can say that Kenny Cooper or Jorge Perlaza are the keys to the Timbers offense. But, it seems that how Jack Jewsbury goes, so goes the Timbers offense. Case in point, in Sunday's 3-3 draw with New York, Jewsbury logged 90 minutes, took five shots, two on frame, and tallied a goal and assist. Meanwhile, the rest of the Timbers offense combined for six shots, one on target, scoring one goal. If Jewsbury can create that type of threat week in, week out, the Timbers will go on another run.
Outcome
Allen Ramsey
: Dallas should win this comfortably. 2-0 we'll say.
Giovanni Albanese Jr
.: While they looked good against the Eastern Conference-leading New York Red Bulls last week at home, the Timbers aren't as stout on the road. Heading into Pizza Hut Park this weekend against the Western Conference second-place club will be a more challenging, and unforgiving venue. FC Dallas wins, 3-1.
Follow Goal.com on

to get the latest soccer news directly. Check out Goal.com's

page; be part of the best soccer fan community in the world!