Both sides had midweek fixtures, Philadelphia tied the Galaxy 1-1, while Dallas won 1-0 at home against FC Toronto.
On Form:
Philadelphia Union:
The Union continues to ride what has brought them success so far this season; their defense, specifically Faryd Mondragon. The Colombian goalkeeper kept the team in the game against Los Angeles on Wednesday, ultimately ending in a 1-1 draw. It certainly was not easy. Mondragon displayed a captain's effort, staying in the game with a strained groin.
FC Dallas:
Daniel Hernandez is the man of the moment for a couple of reasons. First, the Dallas midfielder scored his first goal in nine years to earn a win over Toronto. Second, and possibly more importantly, Hernandez continues to be the leader FC Dallas needs him to be right now, protecting the back line and delivering dangerous balls on set plays.
Off Target:
Union:
Going into the match against LA, his former team, it was expected Carlos Ruiz would show more energy and effort. That came on occasion, but certainly not enough to keep up with a vaunted offensive squad like the Galaxy. The offense only seemed to fully come to life once Danny Mwanga was subbed in after the first half. Both Ruiz and Sebastian Le Toux have struggled this season, with only three goals between them. It seems Peter Nowak will have to continue shuffling the starting lineup to find the ideal match for the offense.
FC Dallas:
Still the attack struggles. Marvin Chavez was lively against TFC, but too often wasteful. Brek Shea had some nice runs down the left, but there was never a finisher on the end of the balls. Dallas may be able to chip away results for a while, but at some point somebody has to start carrying the load up front.
Tactics:
Union:
The task for the club continues to be to find who can get the team off to a quicker start. The Union's fastest goal was in the season opener against Houston, with Danny Califf scoring five minutes in. Other than that, only two other goals have come within the first half. Putting pressure on an FC Dallas squad that is missing reigning MVP David Ferreira is crucial.
FC Dallas:
There is little doubt that Dallas will stick with the same formation, but there are some questions about the people on the pitch. Marvin Chavez and Fabian Castillo will likely once again be deployed with Eric Alexander being asked to make plays out of the midfield, but that combination didn't look much more potent than the combination of Milton Rodriguez and Eric Avilla. No matter who plays, more chances have to be created and taken.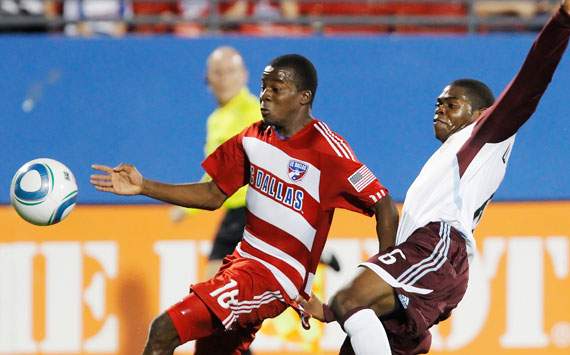 Marvin Chavez| Part of FC Dallas midfield faced with tall task of replacing Ferreira.
Intangibles:
Union:
Just like Philadelphia, FC Dallas has only lost to one team in the last five games- Portland. While Dallas has scored nearly twice as many goals as the Union (11 to Philadelphia's six), they've also given up six more goals (10 to Philadelphia's four). However, Dallas has only one loss this year at Pizza Hut Park.
FC Dallas:
Dallas and Philly have actually been very similar in recent weeks in that both teams are grinding out results. Dallas has the ability to play a pretty game, but this match will likely be decided as much on grit as on skill.
Prediction:
Bryan Robison:
Look for Philadelphia to take advantage of a less potent offense without Ferreira. But this Hoops squad still knows how to score. Two straight draws for the Union with a 1-1 final score.
Allen Ramsey:
I look for this to be a low scoring draw. Call it 1-1.
For more on Major League Soccer, visit Goal.com's MLS page and join Goal.com USA's Facebook fan page!