FC Dallas looks to rebound at home after conceding a late equalizer to rivals Houston last weekend.
On Form
New England Revolution:
Matt Reis seems to be the one Revolution player that hasn't been making mistakes. Reis is back on form this season and has kept the scores against New England relatively low. Defensively, the Revolution has been on par with the rest of the league, but the solid defensive play has not made up for the horrid offensive play.
FC Dallas:
Andrew Jacobson scored his first goal for the Hoops last week against Houston making him the form player of the moment. Jacobson has been solid in FCD's midfield and if he can make a habit of scoring goals after finally getting off the mark, it would be a huge boost for the team. That's not likely to happen, but right now Dallas will take any contributions it can get in front of goal.
Off Target
Revolution:
Head coach Steve Nicol needs to find a formation or grouping of players that can work in the on offense. This will be no easy task for Nicol as he has lost the services of midfielder Benny Feilhaber for at least a few weeks. Striker Rajko Lekic has been frustrated on the field all season, but his play has not been up to expectations at all. Lekic needs to have a forward to link up with, as the target-man role has not work this season.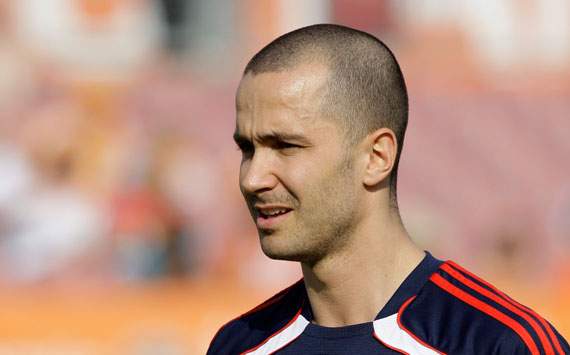 Lekic | Has been frustrated for a good part of his first season in New England
FC Dallas:
The defense was picked apart by Brad Davis last week. Davis, in my opinion, is one of the best midfielders in the league, but for FCD to cough up a late goal with Houston down a man, it must have felt like two points lost. The usually stingy back line will have a chance to recover against the depleted Revolution this week.

Tactics
Revolution:
It may be time to make a formation shift in New England. The 4-5-1 formation has been used for most of the season and has not produced results. Steve Nicol should attempt a 4-4-2 formation to create more offense. The problem is New England is suffering from injuries. Once Benny Feilhaber and Marko Perovic return to the team, the scoring should increase.
FC Dallas:
Nothing much changes for Dallas this week. A full week of rest after a short road trip should leave plenty of options fit and ready to play on Saturday and, aside from the long term casualties, Dallas should have a strong group to run out against New England. As always, the options up top are interchangeable, but the core group remains the same this week from last.
Intangibles
Revolution:
After last weeks game against the Galaxy, captain Sharlie Joesph must have had a realization about his team. Joesph decided not to join the Grenada national team for the Gold Cup, due to New England's current situation. Not losing Joesph will be a huge boost to New England's central midfield.
FC Dallas:
The big deal here is New England's issues in the middle right now. Shalrie Joseph is sticking around, but Benny Feilhaber is out of action and the rest of the Revolution midfield just isn't that strong. Dallas should be able to dominate the middle of the pitch.
Prediction
Justin Churchill:
Based on current form New England will not be able to get a victory on the road. 2-0 FC Dallas.
Allen Ramsey:
Look for Dallas to grind out another win at home. 2-0 to the Hoops.
For more on Major League Soccer, visit Goal.com's MLS page and join Goal.com USA's Facebook fan page!