The Central Americans will do battle in the quaterfinals of the CONCACAF Gold Cup. Both squads are coming off a defeat, limping into the knockout stage.
Costa Rica (4-4-2):
Navas; Diaz, Mora, Marshall, Acosta; Salvatierra, Borges, Guevara, Bolanos; Saborio, Ruiz.



After being dominated by Mexico, Ricardo La Volpe continues to show his faith in Alvaro Saborio and Bryan Ruiz, keeping them in the attack. Saborio has one goal in the competition, and Ruiz has none. It's time for the duo to perform if they hope to advance.
Honduras (4-4-2):
Valladres; Sabillion, Chavez, Bernandez, Garcia; Garcia, Delgado, Mejia, Martinez; Bengston, Costly.
Also coming off a defeat, Luis Suarez will look to Carlo Costly for his scoring touch, having proved his worth with a hat-trick against Grenada.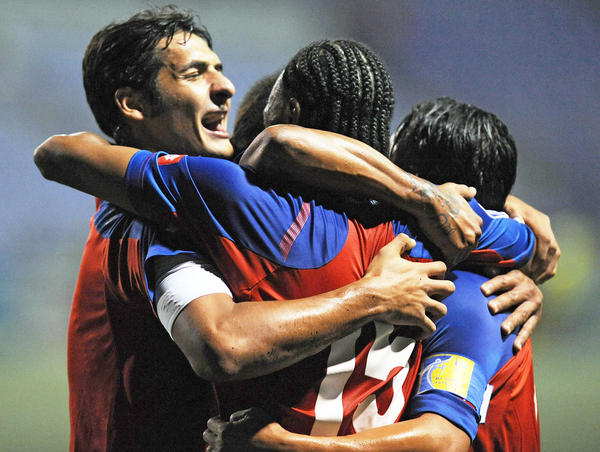 Costa Rica won the first ever Gold Cup in 1963 in El Salvador when it was called the CONCACAF Championship.

The Ticos are the third most successful team in the history of the competition having won the title three times.

The last time Costa Rica won was in 1989.

Costa Rica is coming off a 4-1 defeat to Mexico in the final match of Group A.

Costa Rica will be participating in the Copa America next month in Argentina, replacing Japan.
Honduras has won the tournament one time, in 1981 when it hosted.

Last year, the Bicolor participated in the World Cup in South Africa, marking the team's first participation in the tournament since 1982.

Honduras has not made it to the final of the Gold Cup since 1991 when it fell to the United States in penalty kicks.

In 2009 and 2005, Honduras finished in third place in the competition.
Earlier this year, the nation won the Copa Centroamericana.
Visit our Gillette Fusion Proglide Gold Cup center to weigh in on this game!