The Whitecaps travel to Ohio to take on the Crew.
On Form

Columbus Crew:
Off season acquisition Tommy Heinemann has been a spark of life into a very ineffective Crew attack this season. The mammoth striker has been a super sub for Crew coach Robert Warzycha, and the player dubbed "Captain Caveman" has provided some steel and brute force in the lineup. While he is still looking to open up his account in MLS, his performances have impressed the staff enough to warrant significant action, and he should be confident that a goal is not far off. He might be the only Crew striker that could have those premonitions, unfortunately. With suspensions and the lack of goals from his front line partners, we may see Heinemann grab a place in the starting 11 soon.
Vancouver Whitecaps
:
Alain "The Cat" Rochat. The silky smooth Frenchman has played every minute of every game so far for the Whitecaps and in a season full of injuries, he has been the ball of yarn in a world of rocking chairs. His playful manner and love of pushing forward has endeared him to Caps fans and no one on the team can time a tackle like he does. Covering for the injured DeMerit has forced him to be more responsible when all he wants to do is pin his ears back and play, but he finally got his first goal last Saturday off a gorgeous header into the top corner. Hopefully, he can continue to mark his territory in both boxes but god help us all if those boxes are sand based.
Off Target
Columbus:
Last week against Toronto was a perfect example of the Crew's offense so far this season. The chances were there, and for the large part were not taken. Emilio Renteria did manage a excellent headed finish off of a Sebastian Miranda cross, but several Crew players had other chances to take the lead, and they missed. It's easy to not worry about the lack of finishing when you are not conceding goals either, but the Crew players were honest in the post game comments, feeling that they had let a victory slip away from them. The Crew have just one goal from open play in 11v11 play, and that is a clearly inadequate record for a club that has playoff expectations.

Vancouver:
Jay Nolly. The Whitecaps backup goalie and fan favorite has been shielded by a force field of love from the criticism he rightly deserves. In a team game with 11 men on the pitch it is difficult to blame the goalie when if the men in front of him have done their jobs there should be zero shots against. But there is still a certain level of goalkeeping required to play at this level and Nolly hasn't provided it. Nolly game in game out doesn't command his area, doesn't show leadership, doesn't show confidence, and doesn't show the physical ability to be a MLS starter. He is a wonderful person, but being a nice guy doesn't get him off his damn line to stop an easy shot like the one he face against Eric Avila last Saturday. This could be all for not though as Joe Cannon should be back soon from his broken ankle and could even start against Columbus. Who would have thought a team with Arsenals ex goalkeeper coach Mike Salmon would have keeper problems?

Tactics
Columbus:
For the first half, the Crew played their basic 4-1-3-1-1 and sat back and truly looked to be playing for a draw on the road. Then they fell behind on a well taken shot by Tony Tchani, and things had to change. At half time, Robert Warzycha decided to swap out the disappointing Emmanuel Ekpo for Tommy Heinemann to bring another striker on the field, and within three minutes, the Black and Gold equalized. The visitors looked a vastly improved side with two forwards out, but that was impacted by being a man up. This has led to a debate among the supporters about whether the Crew should play with one striker or two. But Robert Warzycha has often gone with a striker and a more withdrawn forward, and he has shown in the past a unwillingness to change tactics, even when his philosophy has not worked out.

Vancouver:
The injuries are taking their toll on the Caps. The latest member of the Whitecaps MASH unit is Atiba Harris who will be out for a very long time after his right knee surgery. But from pain comes pleasure and a door could be open for #1 MLS draft pick Omar Salgado to get some quality playing time. Add in the Nutrilite Canadian CONCACAF qualifying tournament and the starting 11 for Saturday's game versus Columbus Crew is more educated guess than solid science. We can guarantee that Teitur Thordarson will play his beloved 4-4-2. He has designed the team around forcing the opposition out to the wings and it's a good thing he does as the Whitecaps have few starters fit down the middle behind the strikers.

Intangibles
Columbus:
Vancouver striker Eric Hassli will miss the game due to yellow card accumulation, and the burly Frenchman has shown a early tendency to appear on the score sheet in both the score line and in the discipline sections. In 5 games, the striker has 3 goals, 5 yellow and 2 red cards. Impressive numbers all around for the clubs first ever DP.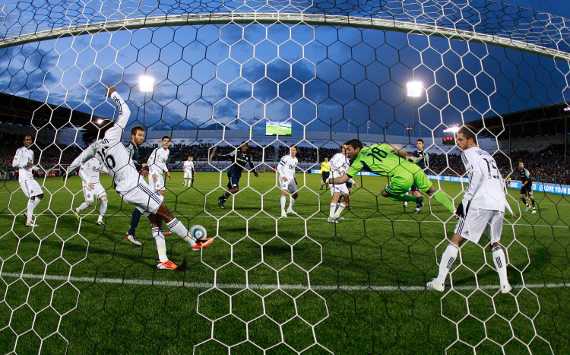 Vancouver faces a tough test
Vancouver:
Life gets busy for the Whitecaps as their Canadian Champions league CONCACAF qualifying tournament kicked off this week with a win in Montreal and runs every Wednesday for a few weeks. The added games are exactly what the Caps don't need right now as they struggle to field a quality starting 11. The odds of getting through the CONCACAF qualifying without more injuries is slim but luckily Hassli got his 5th yellow on Saturday so he won't get to play against Columbus. He was due for another game off anyways.


Outcome

Justin Henley:
At home, Columbus has not conceded a goal this season, and that will continue against a Vancouver side without their joint top scorer, and the Crew will win a hard fought contest 1-0.
Trevor Leach
: The Caps desperately need their defensive talent to get healthy because so far this isn't cutting it. The only way the Caps can win is by outscoring their problems and the Crew have yet to allow a goal at home. 1-0 Crew
For more on Major League Soccer, visit Goal.com's MLS page and join Goal.com USA's Facebook fan page!