On Form
Columbus Crew
: The Crew's MLS form has taken a decided turn for the worst, with the Crew winless since a Labor Day 1-0 defeat of cellar-dwelling D.C. United. A tough schedule, with the Crew playing games every 3 or 4 days for the past 2 months, has taken its toll. Also, the lack of offensive production from the midfield is telling. Robbie Rogers and Brian Carroll have one and Emmanuel Ekpo, Dilly Duka, Kevin Burns and Duncan Oughton all sit on 0 goals in league play. A Crew midfielder has not scored since late July, when debutant Leandre Griffit scored just a couple of minutes after entering the game against Houston. This must change if the Crew expect to win any silverware this year.
San Jose Earthquakes
: Chris Wondolowski is beginning to get the praise he may very well deserve. On the season, Wondolowski has scored a career-high 12 goals (most by a San Jose player since Brian Ching scored 12 in 2004), including his first career hat-trick in the 3-2 win at Toronto FC. For that effort, Wondolowski was named Goal.com's MLS Player of the Week and some MVP discussions have ensued. Earthquakes PR caught onto this, handing out a double-sided sign to fans on Wednesday that read "What a Wondo-ful year" and "Wondo for MVP." If San Jose finishes strong and Wondolowski is in the top three in scoring (now two goals behind Edson Buddle for the lead), he should get serious consideration.
Off Target
Columbus
: The defense has played some of its worst soccer at the worst possible time, conceding nine times in its last three league contests. Injuries and fatigue have not helped the back line, but even Chad Marshall has been in a rut of form lately. New England scored just two minutes in off a set piece and had three or four Revs unmarked in the area. With the offense not scoring goals, a lot of the burden has been placed on the back line, and it has shown cracks for teams to exploit. With the playoffs looming, the defense needs to tighten up or face a early exit a la last season.
San Jose
: It's starting to look like this club is assuming their playoff certificate has already been stamped. The 3-2 win at Toronto FC (a sub-.500 team) last Saturday appeared to be a positive omen is now just the beginning of a defense showing signs of wearing down. It was heightened with a lackluster home performance on Wednesday against the Chicago Fire (another sub-.500 team), with the 'Quakes allowing three goals to a club that hadn't scored in four matches prior.
Offensively, the club is starting to gel and string together passes with new cohorts Geovanni and Khari Stephenson integrated with the mainstays. But that won't amount to anything if the defense keeps up its matador form.
Tactics
Columbus
: The hot seat's temperature is rising, with Crew boss Robert Warzycha's recent statements about a lack of vision and tactical changes enraging many a Crew fan. Warzycha's record is excellent, but his big-game decisions and lack of adjustments have drawn comparisons to another Columbus area coach, one John Cooper. With perhaps a ready-made replacement in Guillermo Barros Schelotto lurking, Robert Warzycha must feel that he needs a major trophy to call off the dogs for another season.
San Jose
: After the show they put on for the fans at Buck Shaw Stadium on Wednesday, don't expect Frank Yallop to stand pat with his lineup. Still sticking with the 4-4-2 formation, expect Ryan Johnson – who lacked effectiveness – to come out of the lineup, with either Cornell Glen stepping up, or Wondolowski moving up from his midfield spot. In addition, an exchange on the defensive line wouldn't hurt. None of the back line players – Tim Ward, Chris Leitch, Brandon McDonald or Jason Hernandez – looked all that impressive.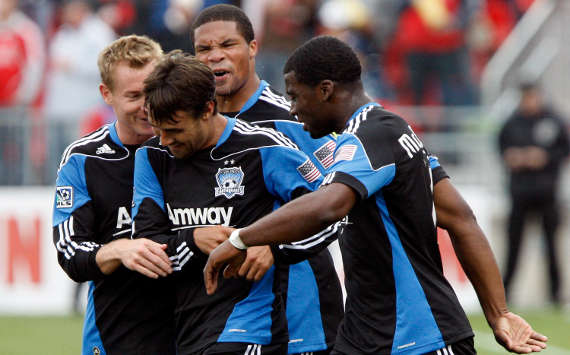 Intangibles
Columbus
: The Crew sent a weak side to Guatemala for the midweek Champions League affair with Municipal, so the first XI got a much needed and deserved rest. With the U.S. Open Cup final in Seattle on Tuesday, the Crew will most likely play the first 11 for both contests. With the Crew in all likelihood through to the quarterfinals, it will give another game to the reserve side on Oct. 19 in Trinidad. The schedule took its toll on the Crew in 2009, with a clearly fatigued side faltering the last month, ending with a shock first round exit to eventual champs Salt Lake, and it appears to be happening again. With NY playing three of four at home and its only road game in Philly, the Crew have to feel the Red Bulls will take at least 10 points from its last four fixtures. The Crew has two home and away fixtures, plus the Open Cup final and its last CCL group stage match.
San Jose
: If they don't score first, they aren't likely to win. Only once – July 10 at the Philadelphia Union – have the Earthquakes gone down a goal and come back to win. Overall, San Jose is 10-0-2 when they put away the first goal of the match; when they are scored upon to start, San Jose touts a 1-8-4 record.
Outcome
Columbus
: Every game is now a must-win for the Crew if they hope to secure home field in the East. San Jose is coming off a 3-0 loss at home, so I predict a 2-1 victory for the Crew.
San Jose
: Playing in their third match in seven days, including a third cross-country flight, it would be shocking if the Quakes came out with a jump in their step. They may show some passion, but their legs will wear down on them in the end. 2-0 Columbus.
For more on Major League Soccer, visit Goal.com's MLS page and join Goal.com USA's Facebook fan page!