The Sounders visit the top team in the East.
On Form
Columbus Crew
: Coming off a disastrous loss to LA Galaxy in which the Crew were thoroughly beaten, its tough to pick any good out of the match. New signing Andres Mendoza did score late, but the goal was a tad lucky and the 3-1 scoreline is deceptive, as the Crew never really threatened.
In the midweek Champions League home fixture against Joe Public, a mostly reserve Crew defeated a visa-weakened Joe Public squad. It was a good game for players such as Leandre Griffit and Emmanuel Ekpo, who hope to earn more playing time in league games. Both looked dangerous off the wing, with Griffit scoring a excellent goal and Ekpo proving a few excellent crosses. It will be interesting to see if Robert Warzycha rewards them for their good play.
Seattle Sounders FC
: Steve Zakuani was the lone highlight in the dismal 2-0 Champions League loss to Saprissa earlier this week. The winger made several impressive runs across the box area dodging and eluding numerous Saprissa defenders. Zakuani's having an outstanding year and provided one of the few positives in Seattle's visit to Costa Rica.
Off Target
Columbus
: The better question is: Who wasn't? The Crew's curse at the HDC continued as they looked second best from the opening whistle. Unable to stop Landon Donovan and company in attack or get any decent chances of their own, the loss dropped the Crew to 1-3-2 against FC Dallas, Real Salt Lake and LA Galaxy and ended any realistic dreams of a first ever domestic treble. They'll be looking to bounce back at home against Sigi Schmid lead Seattle, who they will face Oct. 5 at Qwest Field in the final of the US Open Cup. If the Crew can successfully rebound, look for them to hold off a hard charging NY Red Bull team for top spot in the East.
Seattle
: The Sounders failed to score for the second straight game. Without the presence of forwards Nate Jaqua or Blaise Nkufo in front of the net, Fredy Montero finds it difficult to get the room or space he needs to distribute the ball. This scenario played out early in the season with Jaqua out with his groin injury and Nkufo still playing overseas. If the Sounders are to get back on the scoring track, they'll need one of the two rangy forwards in the lineup to complement Montero.
Tactics
Columbus
: Robert Warzycha's tactics have come under fire from Crew fans after last weekend's loss, when inexplicably he left on two defensive midfielders on and took Guillermo Barros Schelotto and Steven Lenhart out down 2 goals. With a weekend of travel and a Champions League game on Tuesday, perhaps he was thinking ahead and simply resting his 2 leading goal scorers.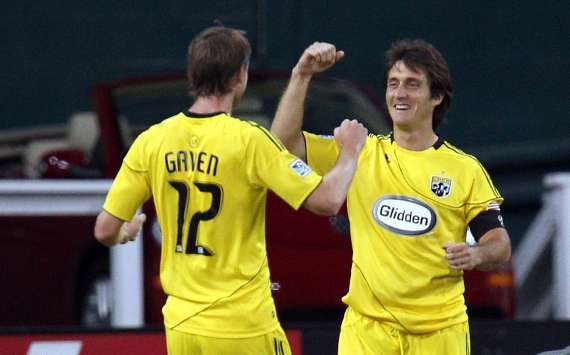 Another theory, posed by a Crew fan, stated that Warzycha "knows who he is going to sub and when he is going to sub them before the match starts". Whatever his reason(s), the coach didn't win any supporters over with his selections or his substitutions.
Seattle
: Head coach Sigi Schmid may need to change from the standard 4-4-2 formation if Jaqua or Nkufo can't play. If the Sounders struggle on the offensive side deep into the Columbus match, look for the veteran coach to make a tactical change with three players up front.
Intangibles
Columbus
: The Crew are 4-0-2 after a loss in the league this year, and look for that trend to continue against a Seattle team that has struggled throughout this season to consistently execute in the final third. With most of the first choice defense rested in midweek, Seattle could find it hard to break down the mostly solid back line of the Crew. On the flip side, the Crew have also at times looked incapable of scoring, however they have found ways to get results, and maybe Tuesday's three goal outburst against Joe Public will liven up the Crew attack.
Seattle
: Seattle will be playing its third match since September 9th. They tied against Real Salt Lake in Seattle last Thursday, headed to Costa Rica on Tuesday for their Champions League match versus Saprissa, and then to Columbus for this Saturday's game. Their mental and physical endurance could be the key factor in the match.
Outcome
Columbus
: With Crew undefeated after a loss this year, and a Seattle team laboring for goals, I expect the Crew to come out and play with a fire in their bellies. They need to get as many points as possible to hold off the Red Bulls, and I think the Crew will come away with the full three points in a 2-0 win.
Seattle
: A tired Seattle side can't overcome fatigue and a strong Columbus Crew team. Seattle Sounders FC 0 - 2 Columbus Crew (Schelotto, Lenhart).
For more on Major League Soccer, visit Goal.com's MLS page and join Goal.com USA's Facebook fan page!