Last year, the teams were vying for the lead in their respective conferences, now they meet in a struggle for points.
On Form
Columbus Crew:
The Crew opened many eyes when they selected Justin Meram and Rich Balchan in the first round of the 2011 MLS Super Draft, ahead of more well known commodities, but the two Big 10 rookies combined deep into stoppage time to secure a point on the road. Meram's bursting run and inch perfect cut back ball found Balchan, a defender by trade who was playing in central midfield due to injuries and absences, and the Indiana product scored his first MLS goal with his first MLS shot. Balchan has been given a crash course in his rookie campaign, much like Shaun Francis was last year, and while he has made his share of positional mistakes, the defender has performed well in general. While Francis is slated to return to the starting 11 very soon, Balchan has done more than enough to validate his selection.

Real Salt Lake:
It's hard to overstate how important last weekend's win was for this team. Fabian Espindola might be the streakiest forward in the league, so the fact that he scored could mean that a bunch more are about to come. And Jean Alexandre was a revelation next to Espindola - his first MLS goal and assist are the buzz around the league right now. As a stopgap measure, RSL pretty much just needs Alexandre to be decent when he's in at striker - when he actually produces points like he did on Saturday, that's gravy.
Off Target

Columbus:
Eddie Gaven turned down a potential call up to the Gold Cup roster due to the stress of being a new father, and the baby may be taking his toll on the usually steady Gaven. He has looked tired throughout the past 2-3 matches, and with three games in 8 days, it may be time to give Eddie a well deserved rest. It may be hard to imagine a Crew midfield without the bearded Gaven, but a congested portion of the schedule and a supposed weaker opponent coming to town on Sunday should give Crew boss Robert Warzycha reason enough to rest a key member of his midfield. With a big game midweek and plenty of depth, look for a few changes on Sunday.
Real Salt Lake
: Lately, Salt Lake's had a hard time scoring. The offense picked it up for sure against Vancouver, but they're not back to where they were in April quite yet. Despite taking a whopping 24 shots against the 'Caps, RSL only managed two goals. Their sharpness around the goal needs to improve, especially for Espindola. He's the kind of guy who can disappear in a funk if he's taking lots of shots, but not hitting the target.
Tactics
Columbus
: Goals have been coming at a slightly higher pace since Robert Warzycha switched from a 4-2-3-1 to a 4-4-2. The Crew have scored 4 goals in two matches in the 4-4-2, and the goals are coming from more sources than when the Crew played a 4-5-1. Striker Andres Mendoza, midfielder Emmanuel Ekpo and defender Rich Balchan have tallied, with Blachan being the first Crew defender to score this season. Even with the additional goals, the Crew can honestly reflect that they had the chances to win both of their previous two matches. Saturday night, Andres Mendoza missed two chances that a player at his salary level should be dispatching with ease, but the Peruvian is not the only guilty party when it comes to poor finishing.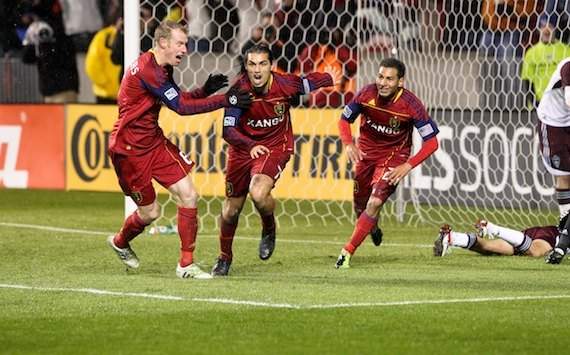 Real Salt Lake and Espindola could be on the rise
Salt Lake
: For the first time in what seems like ages, there shouldn't be much lineup turnover from the last game. Jamison Olave will be back following his red card suspension, replacing Chris Schuler who filled in admirably. Alexandre clearly earned himself more time up top, though Columbus will present a greater challenge. The only question mark is who will start at attacking mid. Both Collen Warner and Andy Williams have been called upon, but neither has done much to claim the spot as his own.
Intangibles
:
Columbus
: These teams have already met twice this season in Champions League play, and in this fixture during the quarterfinals the game finished scoreless, even though Columbus had a man advantage for most of the game, whether it be at 11v10 or 10v9. Both teams have improved since that cold February evening, with Salt Lake showing more so far.
Salt Lake:
It's hard to say whether Real has truly turned the corner. On one hand, we saw lopsided possession, plenty of good scoring chances, and 90 minutes of solid effort last weekend. On the other hand, that's what a decent team would be expected to do against Vancouver at home. It's a totally different situation to face a solid team with veteran leadership on the road, especially after they pulled out a dramatic road result in their last outing. RSL will be tested for sure on Wednesday.
Outcome
Justin Henley:
This is a huge game for the Crew, as they are winless since April. Unfortunately, Real Salt Lake are just too deep for the Crew, and the Claret and Cobalt come away with the win in a entertaining 2-1 game.
Jeremy Horton
: I expect a step back offensively for RSL this week, given the venue and quality of the opponent. But that defense is still tough as they come, and averaging one goal per match, Columbus isn't a goal-scoring juggernaut. Real Salt Lake 0-0 Columbus Crew.
Keep updated with Major League Soccer by visiting Goal.com's MLS page and joining Goal.com's

page.