On Form
Columbus Crew
: The Crew managed to snatch a 2-2 draw from the jaws of defeat last weekend thanks to an unlikely stoppage time equalizer from goalkeeper Will Hesmer. Chad Marshall looked solid on defense while also playing a big role offensively, heading home the opener and contributing on Hesmer's goal. The midfield also looked good for most of the game, with Eddie Gaven appearing much more comfortable playing centrally rather than on the wing.
Although the game didn't mean much, the Crew's morale will also be helped by a 4-1 thrashing of Joe Public FC by a largely second-string side in the CONCACAF Champions League, ensuring they finished the group stages on a high note. If anything can be taken away from this result, it's that head coach Robert Warzycha can have faith in his bench players, something that has been an issue in the team's poor October showing.
Philadelphia Union
: Fred can be an annoyingly streaky player, but when he's on, he gets hot. Last week against the New York Red Bulls he scored the opener and cleared a certain goal off the line to cap an excellent performance. Sebastien Le Toux picked up his 11th assist of the season, which complements his team-record 13 goals. Young right back Sheanon Williams has done brilliantly to cement his place on the back line in a very short frame of time.
Off Target
Columbus
: Simply put, the Crew cannot win in MLS play recently. Their last win came on Sept. 4 at D.C. United, and since then they have accumulated three points from their last six games. While they have backed their way into the playoffs, the team, and the forwards have spurned chances left and right, and the normally sound defensive line has started to show cracks. Furthermore, a common criticism is that Warzycha does not do enough to rotate the squad despite the Crew entering October competing on three fronts, leading to fatigue and uninspired performances.
Philadelphia
: What was once an inevitable romp towards rookie honors has turned into somewhat of a letdown for Danny Mwanga. The DR Congo native has now failed to score since Aug. 14, a run covering some 10 matches. Granted, he didn't play in every one of those, but the drastic falloff in production for a player who seemed so lethal earlier in the season is disappointing, and perhaps a bit worrying. At least Mwanga's place on the roster is guaranteed, however. For several players who have seen limited action this season, including Cristian Arrieta, J.T. Noone, and Toni Stahl, it looks like it could be the end of their time as Union players.
Tactics
Columbus
: With the Crew now locked into second place in the East, Robert Warzycha may choose to rest some of his first-team regulars to give them a break from a grueling October. With little to play for and injury questions lingering over Steven Lenhart (who is suspended anyway after a red card against Toronto), Frankie Hejduk and Danny O'Rourke, Warzycha will likely use this as an opportunity to look for alternatives in the two positions that the Crew have been struggling in. Shaun Francis, Gino Padula and Adam Moffat are all options at full-back, while Eric Brunner could get a start in the center of defense. Lenhart's absence up front leaves room for Andres Mendoza to prove he deserves a bigger role with the team, and Emilio Renteria could also feature after his brace against Joe Public.
Philadelphia
: Injury could keep either one of strikers Alejandro Moreno or Danny Mwanga out of the starting XI, but for the most part, I'd expect most of the team which vanquished the Red Bulls last week to start the final match of Philadelphia's inaugural season.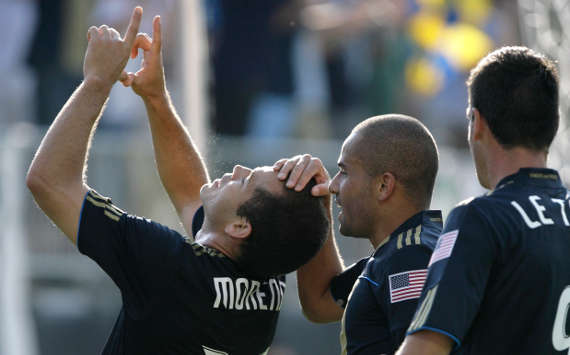 Intangibles
Columbus
: While the Crew can't do anything to improve or hurt their playoff seeding, it is a distinct possibility that with a loss coupled with wins from San Jose and Colorado, they will enter the postseason with the lowest point total of any of the top eight teams, despite finishing 2nd in the Eastern Conference.
Philadelphia
: For the Union, the season would have been a success if it had ended with last week's win over New York. This game is somewhat of a meaningless coda for Philadelphia, who have been out of the playoff hunt for a couple of weeks. Still, this may be the last chance for any fringe players who get an opportunity to show their stuff and try to impress Peter Nowak (or one of the new expansion teams who may have a chance to draft them).
Outcome
Columbus
: The Crew might just eke out a win here to get a little bit of momentum going into the play. They won 2-1 in Philadelphia earlier, and I'll go with the same scoreline in Columbus.
Philadelphia
: The Union have been pretty dire on the road all year. The Crew won this season's reverse fixture 2-1, and I'm going to predict the same outcome this time. Sebastien Le Toux will score the final goal of the season to complete his bookends.
For more on Major League Soccer, visit Goal.com's MLS page and join Goal.com USA's Facebook fan page!