Hesmer comes up big, offense lets down in scoreless draw.
The beautiful summer weather in central Ohio was not matched by beautiful play, as two of the top teams in MLS played out a scoreless draw. Both Kevin Hartman and Will Hesmer made some crucial saves, but by and large the finishing was poor
The Crew came into this game looking to rebound after a tough loss in their midweek CONCACAF Champions League at Santos Laguna, where a 93rd minute goal gave the home side 3 vital points and left the Crew wondering what went wrong. Dallas meanwhile was the hottest team in MLS coming into the showdown, not having lost since May 20.
First Half
The first chance of the game fell to the home side. In the ninth minute, Kevin Hartman misplayed an excellent free kick delivery by Guillermo Barros Schelotto and fell into the waiting lap of Chad Marshall, but a Dallas defender quickly charged down his shot, and Hartman smothered Adam Moffat's attempt on the rebound.
Shortly thereafter, Dallas midfielder Brek Shea had two good chances to put the Hoops up, but missed the target on both oppurtunities. First off, a brilliant through ball from Milton Rodriguez put Break Shea through on goal, but he took one too many touches and couldn't get his left footed effort on target. Then, after being fed while out wide, he cut across Crew defender Danny O'Rourke and fired a shot hard and low, but once again wide of a diving Hesmer.
In the 38th minute, the Crew threatened once again with Eddie Gaven latching onto a looping pass from Schelotto, only to see his effort smothered by Jair Benitez. Before Gaven could have another attempt, he was whistled for a foul in the ensuing chaos following his first attempt.
The best chance of the first half fell to Crew striker Jason Garey just minutes Gaven's effort. After Emilio Renteria got past his marker and got to the end line, he put in a perfect cross inside the box, and fell to the waiting Garey, who completely scuffed the chance.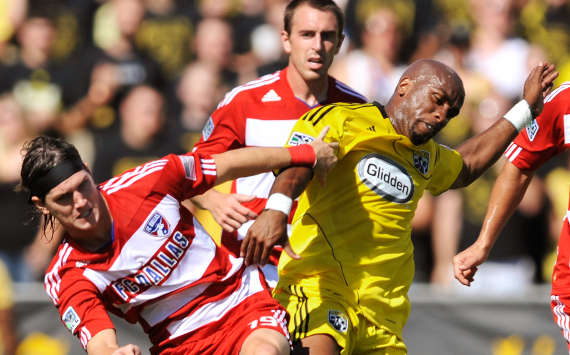 Second Half
The second half started quickly for Dallas, who were pushing hard to find a rare road win at Crew Stadium. A perfect cross by Brek Shea found David Ferreira, who couldn't keep his effort down, but Dallas and showed that they were not going to sit back and wait for the Crew to beat them.
Then, in the 67th minute, Eddie Gaven dribbled through two Dallas defenders and put in a dangerous cross that was again misplayed by Kevin Hartman. Guillermo Barros Schelotto thought he had a winner, but his shot was cleared off the line by Zach Loyd.
It was that kind of day for the Crew, but Dallas also had great chances that could and should have been finished. With the clock winding down, Eric Avila held off the Crew defenders, only for Will Hesmer to get down well and tip Avila's shot around the near post. Their best chance came to Brek Shea when Atiba Harris held of the Crew defenders before finding Shea, who again cut across the defense, this time getting a hard shot on goal that was saved by Will Hesmer.
In the end, the 0-0 draw was a just result, with neither team showing the finishing skill required to take all three points.
For more on Major League Soccer, visit Goal.com's MLS page and join Goal.com USA's Facebook fan page!