East welcomes west in this heavy-hitting showdown.
On Form
Columbus Crew:
Steven Lenhart. The Crew striker has tallied 4 goals in as many games, including a brace against the expansion Union, all of them as a substitute. After wasting numerous chances earlier in the season, he lost his starting spot next to Guillermo Barros Schelotto and began appearing as a replacement for Jason Garey, and hasn't looked back. A big, physical bull with a tireless work ethic and a willingness to throw his body around, he seems to do his best work in the second half after the defense has had a chance to tire.
FC Dallas:
Dallas have not lost on the road in 9 games this season, one result short of the MLS all-time record. The Hoops' can set a new record Saturday night against Columbus with a win or a draw. Facing off against the Eastern Conference leaders will be a real test for Dallas, who haven't played a top team since their loss to LA back in May. Unbeaten runs are always good for a team but Dallas need to earn a positive result against the Crew in order to really stake their claim as one of the best teams in the league.
Fortunately for FCD, so many things are going right on the field that their confidence and sharpness will be high. If the solid Dallas defense can once again contain the opposing offense,
Off Target
Columbus:
William Hesmer. The normally solid Hesmer has looked shaky the past few games, prompting manager Robert Warzycha to select Andy Gruenebaum in the last week's CONCACAF Champions League home fixture against Municipal. Hesmer is still the unquestioned number 1, but a couple more shaky performances and Warzycha might decide to sit Hesmer.
Dallas:
Columbus are a strong team who can put you away early or fight to get back into a game late on. Dallas have shown an uncanny ability to make one goal leads stand up this season, but against the Crew they'll surely need more than just one goal to feel comfortable. Crew Stadium is a hostile environment for traveling teams, and even though Dallas have done exceptionally well on the road this year, this won't be a game they can afford to sit back in.
Tactics
Columbus:
The last 3 road games have been rough for the Crew, taking only 3 points. Much of the problem has been a extremely defensive midfield with the injuries to key players Eddie Gaven, Robbie Rogers and Brian Carroll. Unable to control the center of the pitch, the midfield has been dropping deep into their own half, at times looking like playing with 6 defenders. With Gaven's return to fitness, things should be better, but after a long week of travel, you never know.
Dallas:
Midfielder Dax McCarty is unlikely to play this weekend, and his presence will be missed perhaps even more considering the weight of this game. Rookie stand-in Eric Alexander has done a fine job in McCarty's place, but the Crew midfield is mature and seasoned and coach Schellas Hyndman will definitely wish he had McCarty's experience on the field.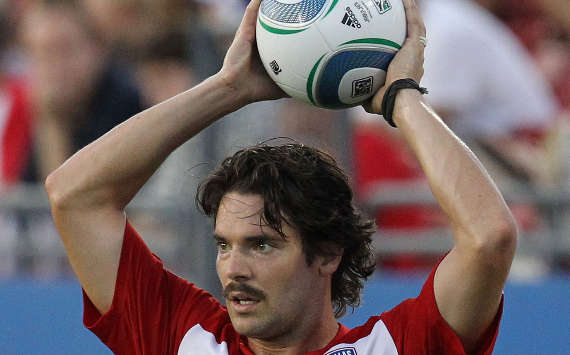 Guillermo Barros Schelotto is a player that every MLS team knows about. Dallas will need to stifle his creative abilities if they want to get a good result. They'll also need to find a way to break down a defense that is just a few goals less stingy than their own.
Intangibles

Columbus:
The black and gold have bounced with after its previous 2 losses with wins, Saturday's league win and last Wednesdays Champions League home victory. After yesterday's tough loss in the Champions League at Santos Laguna, Frankie and Co. should look to take out their frustration against the Horns.
Dallas:
These two teams tied at Pizza Hut Park back in April, and are pretty much even in every other way. Dallas have lost fewer, but Columbus have won more. Dallas have scored fewer goals, but Columbus have allowed more. Both teams will want to set themselves apart Saturday night and not continue the trend of similarities.
Prediction
Columbus:
A rested team, with much of the first 11 not used in CL play, plus a tough loss to motivate the team spells danger for Dallas. The Crew have too much attacking power and should take this home game comfortably. 2-0 Crew.
Dallas:
Jeff Cunningham is on pace to break the MLS all-time scoring record and Dallas can set the MLS all-time road unbeaten record. This truly seems to be Dallas' year and if their recent form is any indication, expect to see both records broken and a long run in the post-season.
FC Dallas 2-1
For more on Major League Soccer, visit Goal.com's MLS page and join Goal.com USA's Facebook fan page!