Two teams that have experience in MLS Cup games look to get back on track early in the season.
On Form
Columbus Crew:
Robbie Rogers. The winger has been one of the only bright spots early in the 2011 season, using his pace to beat defenders into space. Robbie has also scored the only goal in league play for the Crew, and he must continue to be a scoring threat for the Crew to make the playoffs.
F.C. Dallas:
Nobody yet. The season is young still so I'm sure this will improve, but FCD needs to find some goals and some consistency on defense before we start talking about players being on form. That said, it's not as if everybody has been terrible. There just doesn't seem to be a lot of cohesion just yet, so nobody is really standing out.
Off Target
Columbus:
The rest of the offense. The Crew's struggles to find goals have been the story of the tail end of 2010 and it looks like it will continue well into 2011. The Crew managed just 5 shots on goal against a unproven Red Bulls back four, and have just 12 shots on goal in two games. The Crew are lacking a killer edge and a bit of creativity in the final third, and goals will continue to look unlikely from open play unless a spark can be found.
Dallas:
Where to start? The defense is where the biggest problems have shown so far. George John is solid and Daniel Hernandez has been tough through the middle, but Brek Shea's red in the season opener and his absence in the second match have left the club a bit thin and without any chance to settle. The attack has to shoulder some of the blame as well, with just one goal in two games, so like the on form section, it's hard to pick out just one player.
Tactics


Columbus:
Robert Warzycha reverted to the 4-1-3-1-1 he used throughout 2010, with Emmanuel Ekpo playing in a withdrawn role just behind Andres Mendoza. However, it did not have a tangible effect on the creation of chances, as the Black and Gold could not break down New York with any regularity and looked out of ideas. With striker Emilio Renteria injured, Warzycha opted to play with one striker, leaving target man Tommy Heinemann on the bench. How long that will last remains to be seen, as the giant Heinemann seems to have transitioned to MLS very well.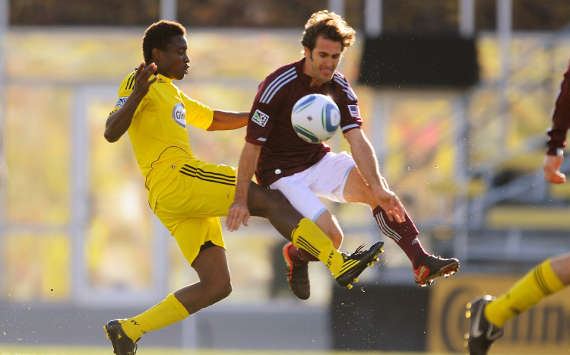 Emmanuel Ekpo | Could play as withdrawn forward
Dallas:
The tactics are actually fine right now. Dallas puts the ball on the ground well, plays a nice brand of soccer and should be able to stick with what took them so far last year, so don't take the plastic cover off the panic button just yet. However, with the sending off, there were a total of three changes between the opener and the second match of the year, so there very well could be just as many heading into match number three.
Intangibles
Columbus:
Cold and snow are nothing new in Ohio, however, with the calendar turning into its fourth month, it seems winter has decided to continue indefinitely. The players will be used to it, but the pitch may be a bit harder and faster due to the cold temperatures.
Dallas:
On the road for the first time, there are a new set of challenges for this week. Crew stadium is always a tough place to play and Dallas needs to get a win, so there is plenty riding on this one.

Outcome
Justin Henley:
Seeing as the home team will face a short week and not have the fortune of having their opponent missing more than half their preferred 11, and add the Crew's toothless attack, and you get a home loss for the Black and Gold. 1-0 to Dallas, and lots more frustration for the Nordecke.

Allen Ramsey:
I think Dallas will come out on top, actually, despite not having any great reason to feel this way. Crew 1-3 FC Dallas.
Keep updated with Major League Soccer by visiting Goal.com's MLS page and joining Goal.com USA's Facebook fan page!