The Crew host Chivas USA looking for its first goal in three matches.
On Form
Columbus Crew:
It's been a rough couple of games for the Black and Gold, losing back to back matches and failing to score in either, getting outscored by a combined four goals to zero. It doesn't seem to matter what lineup Robert Warzycha throws out, the attacking struggles have been a universal constant this season. The news didn't get any better in Portland when leading scorer Emilio Renteria was forced to leave the pitch after just over half hour with a quad strain. He was replaced by DP Andres Mendoza, who produced one moment of brilliance but otherwise could not find the little piece of magic the Crew has been missing.
Chivas USA:
Ben Zemanski didn't score against the Galaxy in Chivas USA's last encounter, which was a narrow loss, but he hit the post and was definitely a threat throughout the game. The young rookie is relentless in his efforts, and that's what pays off eventually.
Off Target
Crew:
The Crew will be unfortunate to lose Robbie Rogers after Saturday's match for the Gold Cup, as the winger was by all accounts a surprise inclusion in the 23-man roster. Rogers has been one of the few consistent threats for the Crew this season, with two goals and one assist in ten matches. With Emilio Renteria possibly also missing time, the struggles to find goals seems destined to continue for at least a couple more weeks. The Crew did make history by signing their first ever homegrown player, striker Aaron Horton. While it is safe to say he will not make an impact in the first team this season, he is just one of a few promising youngsters for the Black and Gold.
Chivas USA:
Justin Braun didn't play badly, but the thing about scoring a hat trick versus New York is that it raises expectations. Now Braun must prove that his scoring outburst wasn't a fluke and that he is ready to be a prime attacking threat each and every game.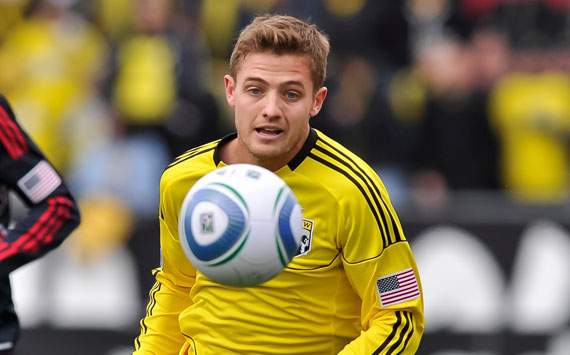 Most were not anticipating the Crew losing Robbie Rogers for the Gold Cup

Tactics
Crew:
Robert Warzycha made an offensive change to his starting lineup by switching from his preferred 4-2-3-1 into a more conventional 4-4-2. The move made no impact on the scoreline, however, and the attack still was stuck in neutral, generating only a couple of clear cut scoring chances. The pressure is continuing to mount on the Crew legend, and with his most dangerous wide man about to leave for national team duty, things are not looking bright for the player known as the Polish Rifle.
Chivas USA:
Coach Robin Fraser isn't going to let a narrow loss to Los Angeles mess up the system that he's established with Chivas USA, nor should he. Everyone on the team is settling into their roles and the steady improvement of the squad can best be maintained by continuing that trajectory.
Intangibles
Crew:
Former Crew players have scored goals against their former sides in both San Jose (Steven Lenhart) and Portland (Eric Brunner). Simon Elliot and Alejandro Moreno have the chance to continue that streak at Crew Stadium.
Chivas USA:
Both Fraser and Crew coach Robert Warzycha are MLS veterans who translate their field philosophies to their players, but Fraser played as a defender. Warzycha was a forward, and although both are well-rounded enough for their teams to be effective in both areas, the emphasis is probably different. The winner will be the one whose team has more completely bought into the message being sold.
Prediction
Justin Henley:
This game is as close to a must win game in May that you can have. The Crew needs to restore faith to its fans that they can be in the playoff picture, and the home team does just enough to win. 1-0 Crew.
Andrea Canales:
It still tends to be an advantage for MLS teams to play at home. I predict a 2-1 win for the Crew.
For more on Major League Soccer, visit Goal.com's MLS page and join Goal.com USA's Facebook fan page!