Kenny Cooper scores the Timbers' first ever MLS goal.
The defending Major League Soccer Cup champions, the Colorado Rapids, started the 2011 season looking stronger than ever in a composed and comprehensive 3-1 victory over the expansion team Portland Timbers.
First Half
From the start, the Rapids were more organized and worked well together - as befitted a team that rolled out the same lineup that won MLS Cup.
Inside of ten minutes, that unity and confidence paid off. After taking the ball to the corner flag, Omar Cummings used some fancy footwork and plain athleticism to hold off the harassing Timbers defenders and enter the box with the ball on his foot. After he slid a pass to Conor Casey, who couldn't quite reach it, the ball popped out to Jeff Lawrentowicz, who shot the ball past Timbers goalkeeper Adin Brown.
The runs of Cummings and his partnership with Casey continued to torture the Timbers defense.
Near the half hour mark, Brown rushed out to deny Cummings on a one-on-one opportunity. He was successful, but the bounce was kind to Cummings and the ball landed at his feet once more. Brown was helpless to deny the second attempt.
The next goal came from a rather unexpected source. With the Timbers keying in on Cummings and Casey, Smith found himself with some room and took advantage. He fired in a shot from distance that knuckled perfectly into the top right corner, eluding Brown's grasp.
Despite the scoreline, the Timbers goalkeeper was in some ways their hero, as Brown battled to keep the scoreline respectable, though he was repeatedly exposed.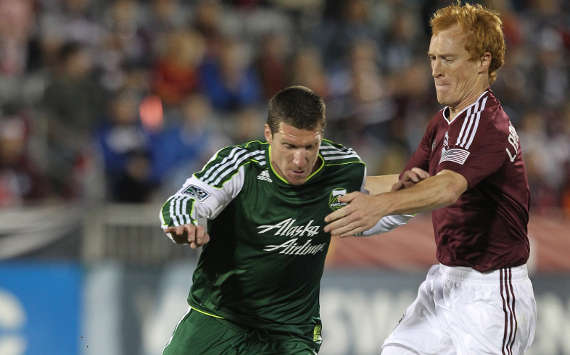 Second Half
With such a healthy lead, the Rapids could be forgiven for easing off somewhat, and their runs were not quite as aggressive in the second half.
It may have been preseason fatigue as well, as neither team looked as sharp in the second period.
However, Smith teed up another shot from distance that tested Brown, and the goalkeeper wouldn't be caught twice by the same trick.
The Timbers did stave off humiliation, however. Kenny Cooper sent in a freekick that evaded both the wall and Matt Perkins to slip into the goal for the first successful strike in franchise history.
Yet the biggest impression from the match was the quality gap that the Timbers will have to contend with now that they are a part of MLS. The Rapids looked worthy champions, and they gave the newcomers a harsh welcome to the league.


Follow Goal.com on

to get the latest soccer news directly. Check out Goal.com's

page; be part of the best soccer fan community in the world!