The MLS champions welcome the newbies.
On Form:
Colorado Rapids:
Pablo Mastroeni is becoming a living legend in the reliable, yet passionate way he performs on the field, and in the way he leads his team. Also, Omar Cummings, with his short stay in Aston Villa, has only improved and strengthened his form. The entire squad capitalized from a short offseason, and are in excellent physical condition.
Portland Timbers:
The Timbers quietly had an effective preseason, one in which they did not lose a match. Unlike many expansion teams, this one seems to have gelled into an effective unit relatively quickly.
Off Target:
Colorado:
It was a rough week for midfielder, Jeff Larentowicz. On top of a hamstring injury, he fractured his thumb during the preseason match against Vancouver. The worst came on Wednesday when he was in a serious car accident, and was dismissed from the hospital. Even with a clean bill of health, Larentowicz may struggle playing the full 90 minutes.
Portland:
Portland's injuries have piled up of late, with midfielder Sal Zizzo and forward Darlington Nagbe becoming some of the latest victims. One injury absence is especially notable, that of goalkeeper Troy Perkins. Adin Brown has taken his place, but the veteran has a long history of injury problems as well, which means Portland could quickly be down to a third-string goalkeeper.
Tactics:
Colorado:
The Colorado Rapids take their season game by game. They will most likely start the same XI that kicked off the MLS Cup Championship, and will compete with same intensity and grittiness that won them the trophy. Coach Gary Smith may switch up the line-up, showcasing the improved talent on the bench.
Portland:
Portland's Kenny Cooper knows the league well from his years in MLS before his recent stint abroad, but Colombian forward Jorge Perlaza has no such insider knowledge. Portland will look to stay compact and to rely on their surprisingly effective defense before taking their chances going forward.
Intangibles:
Colorado:
Dick's Sporting Goods Park will be filled with excited fans, eager to show the world that they support the defending MLS Champions. With Portland being new to MLS, the Colorado Rapids hope to welcome them by giving them their first loss.
Portland:
It's Portland's opening night of existence as an MLS franchise and the players are likely to be filled with nervous energy. That can sometimes yield surprising results, especially if Portland has some success going forward.
OutcomeStephanie Gardner:
The Colorado Rapids have not lost a home opener since they moved to Dick's Sporting Goods Park. This night will be no different. The Portland Timbers are going to fall. Colorado 3-1 Portland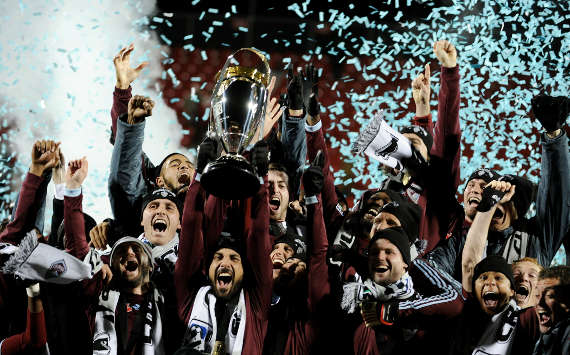 The Rapids are the 2010 MLS champions


Andrea Canales:
It's tough to ask a team to take on the reigning league champions on the first day. The Timbers are headed in the right direction, but the Rapids should give them an abrupt welcome to MLS. 2-0, Rapids.
Follow Goal.com on

to get the latest soccer news directly. Check out Goal.com's

page; be part of the best soccer fan community in the world!