The Union look to follow their six goal outburst in Toronto with another strong road performance.
On Form
Philadelphia Union:
The Union scored six goals against Toronto FC, so it's impossible to go in any other direction on this. The Union doubled its franchise record in goals in a match, which included Justin Mapp and Danny Mwanga both scoring two goals each. Rookie Gabriel Farfan followed his brother Michael's pace, in scoring his first career goal the week after Michael had done so. In addition to Farfan, Justin Mapp really seems to be stepping up at midfield. He is showing a more aggressive attack at the goal. It is rather simple to state that six goals a match should not be expected. However, all of the changes offensively over the last month seem to really be paying off.
Colorado Rapids:
A new name to the starting XI, Ross LaBauex, has proven he is a reliable replacement for injured members of the Rapids roster. Kosuke Kimura continues to proudly play for his country by displaying great determination the entire 90 minutes.
Off Target
Union:
He is seen as the Union MVP this season, but goalkeeper Faryd Mondragon struggled last week. He did pull up after a shot, holding the same hamstring he injured weeks ago against Los Angeles. Before that, though, Mondragon gave up two goals for only the second time all regular season. On the first goal, Mondragon inexplicably chased the advancing Toronto forward, with all defensive help still behind the ball. This led to an open net, and an easy goal for Toronto. Perhaps the hamstring injury is still impacting Mondragon's play.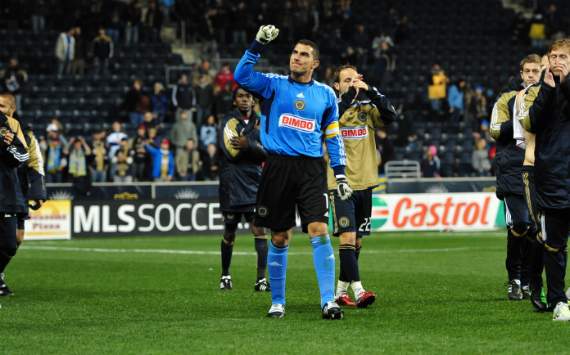 Rapids:
Just when the Rapids forwards appear to be recovering from injuries, defender Marvell Wynne and midfielder Joseph Nane suffered injuries, pulling them off the lineup. The squad succeeded in scoring this past week, even looking like a strong unit, but it still wasn't enough to allow the Rapids to leave with a victory.
Tactics
Union:
With a season-long focus on improving its offense, the defense looks to have taken a step back. With four shutouts in the first six matches, it was obvious the defense was going to be the strength of this team this season. While they haven't fallen off completely, the team has not shut out an opposing team in over a month, letting up at least one goal in five straight matches. Injuries have impacted the depth at midfield, but the defense will have to return to dominance in order to maintain the team's position at the top of the standings.
Rapids:
Coach Gary Smith has a few options now regarding his starting lineup. With Philadelphia having such a powerful match against Toronto FC, he will have to find a good replacement for the speedy Wynne on defense. At home, the Rapids should come out aggressive, dauntless in their shot attempts.
Intangibles
Union:
It was certainly a welcome sight for Philadelphia to see a W in the results column after a road match. It was only their second road victory all season, and the first since the opening match of the season. Colorado is yet another challenge this week, but the Rapids can be taken advantage of at home, where they are only 2-1-3 this season.
Rapids: A week at home brings a refreshed team to the field. With forwards like Folan and possibly Omar Cummings back on the bench, the thrill of having two strikers back on the field could intimidate the Union.
Prediction
Bryan Robison:
As I mentioned earlier, six goals in a match is not going to happen every week, and probably not again this season. With eight goals in two games, the Union will look to continue their offensive momentum. I think that will stall a bit this season, and the Rapids will present a much more difficult defensive challenge. Look for the Union to leave Colorado with a point after a 1-1 draw.
Stephanie Gardner:
On the verge of breaking their five game streak of draws, the Colorado Rapids will finally take away three points from a heated battle as they defeat Philadelphia 3-2.
For more on Major League Soccer, visit Goal.com's MLS page and join Goal.com USA's Facebook fan page!