The Fire head west looking to snap a four-game winless skid, while their opponents have lost three straight.
On Form:
Chicago Fire:
After a discouraging 1-1 tie with Houston last week, form is definitely a key factor for this team. Be it consistency, or a team hero, the team needs something to get them going. Defender Josip Mikulic, Marco Pappa, and Diego Chaves have all been on form for the Fire.
Colorado Rapids:
With three straight losses, to the amateur's eye, it may seem hard to find a player on form. Yet, that couldn't be further from the truth. A true champion is one that can learn from defeat, stand after they've fallen, and once again take the field with confidence. Mastroeni's leadership, the players' unity on and off the field, and the solid defensive lineup are going to be what makes the Rapids shine again.
Off Target:
Fire:
Chicago has yet to settle into a consistent lineup. It seems that at least three or four changes are made to the lineup each week and that isn't always a good thing. The Fire is also riding a four game winless streak, during which they've allowed two goals per game.
Rapids:
Injuries have plagued the forwards of the reigning champions. Amarikwa is still off the roster, and Casey may need another week to heal his hamstring injury. Cummings and Folan have another chance to become the powerful duo fans know they can be.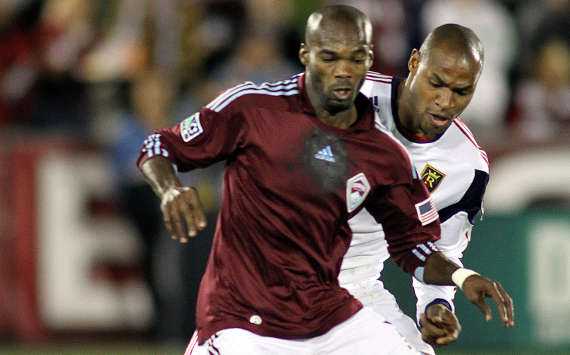 Tactics:
Fire:
We could see Sean Johnson return in goal for the Fire after a pair of prosaic performances from Jon Conway. It's possible the Fire will go with a Segares-Gibbs-Mikulic-Anibaba back line. Filling the midfield four could be Nyarko-Videria-Pause-Pappa. Two speedy wingers could very well cause hectic trouble for the Rapids. Up front, expect Oduro to be paired up with Chaves in a recently adopted 4-4-2 line-up.

Rapids:
Sticking with the 4-4-2, the Rapids will approach this home game utilizing the solid unit that won the MLS Cup last year, and slowly integrating the dependable players on the bench. They also will look to enjoy playing in front of the home crowd, eager to score goals.
Intangibles:
Fire:
Chicago will be playing at Dick's Sporting Goods Park on Saturday. Will the altitude be a supporting weapon for the Rapids this time around? The good news for the Fire is their two forwards Gaston Puerari and Diego Chaves are no strangers to a high-altitude climate. Both played soccer in Uruguay for many years and if anything, Colorado will be a little taste of home for them. Look for comfortable performances from the two strikers.

Rapids:
Never has so much negative attention been given to this championship team, especially with all the press surrounding Brian Mullan after his leg-breaking challenge on Steve Zakuani last weekend. Having the home advantage will help this squad move forward.
Outcome:
David Gubala:
Playing away from home, the Fire will break their four match winless streak and come away with a hard fought 3-2 victory. I predict a brace from Diego Chaves with Gaston Puerari collecting the third goal for the Men in Red.
Stephanie Gardner
: The Rapids reserve team met Chicago Fire weeks ago, and did a fair job of holding their own. When they meet this time, the Rapids should win 3-0, not to make a statement to the world, but to remind themselves that they are the defending MLS Champions.
For more on Major League Soccer, visit Goal.com's MLS page and join Goal.com USA's Facebook fan page!