With both teams out of the playoff picture, the match between Chivas USA and the visiting Toronto FC held very little meaning for either side. The Goats took the "We Fired Preki" Bowl by a heavy 3-0 scoreline thanks to a late burst and Toronto's inability to finish its many chances.
Dwayne De Rosario skipped past the Chivas USA backline early and created a close chance early on to set the tempo. Former Goat Maicon Santos got in on the action when he nicked a cross, sending it just a few inches wide from within the six-yard box to close out the half.
Santos similarly dragged his shot into the upright to begin the second half, showing the lack of composure in front of goal which convinced Chivas USA to let him go.
Jorge Flores made no such mistake a few minute later. He positioned himself in front of his marker and planted a shot into the back of the net from a Rodolfo Espinoza cross to open the scoring.
Zach Thornton had to pull off a spectacular double save to keep things level. First, his fingers brushed an audacious DeRo shot to nudge the 35-yard blast crashing off the crossbeam. Then, the 36-year-old leaped to his feat in time to bat away Maicon Santos' followup effort.
A few minutes later, the Brazilian finally beat Thornton. This time, however, Michael Umana cleared the shot off the line.
With the game winding down, Jesus Padilla scored from a long-range blast. Just a few seconds later, Espinoza curled a gorgeous left-footed shot into the top corner. Both late goals capitalized on Adrian Cann's injury, which left TFC a man short.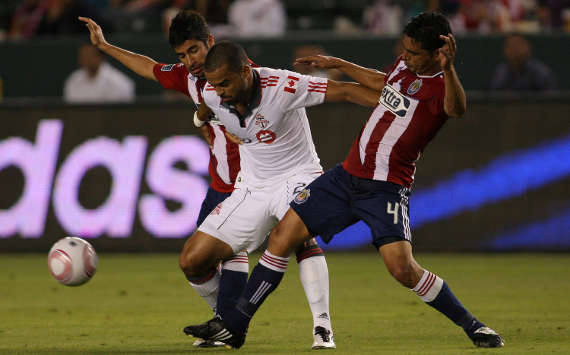 For more on Major League Soccer, visit Goal.com's MLS page and join Goal.com USA's Facebook fan page!