On Form
Chivas USA
: There's only four games left in the season. That's a huge positive for Chivas USA. In four games the organization can pretend 2010 never happened and get to work trying to not be horrible in 2011. The only one who can salvage something from his memory of this year is Justin Braun. The pliable striker scored nine goals and notched three assists to garner (premature) talk of him joining the U.S. national team.
Toronto FC
: At the very least, TFC has shown some form of resiliency when falling behind over the last few league matches. Down 2-0 to the Sounders on Saturday, Dwayne De Rosario pulled the club back within one. When Sanna Nyassi restored Seattle's two-goal cushion, Chad Barrett made the deficit one again . . . and this is what's so very frustrating for Toronto FC fans: they didn't roll over and die, but their comeback was half-hearted and, more importantly, incomplete. There's been far too much of that this season from the Reds and one look at the standings will tell you that.
Off Target
Chivas USA
: Let's go with lax defending. In the past two games, the Goats have conceded four goals to set pieces, the first two against the Philadelphia Union two weeks ago indicative of egregiously loose marking. The side has let in two or more goals each of its last three games. If any of the starting defenders want to continue living in Los Angeles, he might consider paying attention to the guy he's supposed to mark.
Toronto
: Don't get me wrong: for a vast majority of this season, Toronto FC's central defense has been outstanding. Adrian Cann has easily been Toronto's acquisition of the offseason and Nana Attakora is quickly developing into a more than capable halfback who should figure into Canada's international set-up for quite some time. With that being said, both guys were abjectly terrible in Seattle. Neither seemed to have any awareness of where the ball was at any given moment and, if by some miracle, they were able to locate the ball, they had completely lost coverage of their defensive assignments in doing so. If Cann had served it up any easier for Nyassi on the game-winning goal, he would have been wearing a waiter's uniform. It was simply an awful day defensively for the Reds.
Tactics
Chivas USA
: One interesting move Martin Vasquez has made in recent weeks is dropping captain Jonathan Bornstein to the bench and opting for more traditionally attacking players in the midfield. It hasn't really panned out; Chivas USA has scored once in three games. With the season over and Bornstein leaving in the offseason for Tigres, Vasquez may return his captain to the starting lineup for sentimental reasons if not because, well, things can't get much worse.
Toronto
: Yes, the Reds haven't been technically eliminated from post-season contention, but a single dropped point from Toronto or one earned by the 'Quakes will do the trick. This means that you're probably going to get another look at the kids in what amounts to a garbage game for both Toronto and the Goats. TFC Academy standout Nick Lindsay made his MLS debut on Saturday and actually set up Barrett's marker. It would be no surprise to see more of the homegrown player, as well as fellow Academy grad, Doneil Henry. Maicon Santos will certainly be up to play against the club that cut him loose earlier in the summer. With nothing to lose, TFC might very well play some loose, attacking football on the road for a change.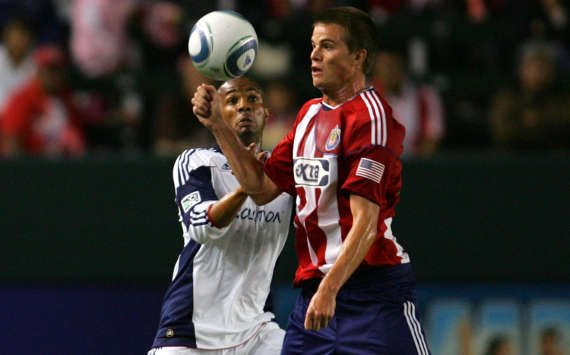 Intangibles
Chivas USA
: Saturday's game marks the first bi-annual "We Fired Preki Bowl." The former U.S. international left both Chivas USA and Toronto bereft of talent on the roster after a series of questionable personnel decisions at both clubs. The coaches who have followed him have struggled to find a competent starting XI out of the rubble he left behind. One guy Preki did take from Chivas USA is Brazilian striker Maicon Santos, who will line up against his former teammates.
Toronto
: The Goats are already gone and the Reds are about to join them. Here's a match between two clubs with only pride and, just maybe, their coach's jobs left to play for. Many TFC players have indicated that they hope interim boss Nick Dasovic gets the opportunity to manage the club on a full-time basis next season. While that possibility is highly unlikely, a strong showing from the Reds in their final three matches might increase it. For Martin Vasquez, his debut season as a head coach certainly didn't go as planned and there are now whispers that his job might not be safe. I would be surprised if Vasquez were terminated after only one season in charge of his former club, but playing out the string in a lackluster fashion sure as hell won't help his case.
Prediction
Chivas USA
: Let's say a draw.
Toronto
: Take a 1-1 draw in a match that will be more entertaining than it has any right to be.
For more on Major League Soccer, visit Goal.com's MLS page and join Goal.com USA's Facebook fan page!