The two teams who share the Home Depot Center clash.
On Form
Los Angeles Galaxy:
Landon Donovan is on a tear, scoring seven goals in his last five games. He looks rejuvenated after his first full offseason of rest in nearly three years, and with Juninho and David Beckham taking care of matters in the center of the park, Donovan won't lack for chances.
Chivas USA:
Justin Braun has caught fire in a big way, scoring three goals against New York this past Sunday and leading Chivas USA to a 3-2 victory. If goals come in bunches, then there should be more on the way for Braun.
Off Target
Los Angeles:
The Galaxy must guard against late-game miscues. Their four goals surrendered in the last 15 minutes of games were the second most in MLS going into Saturday's 4-1 victory over Sporting Kansas City. Sean Franklin's lazy back pass against Philadelphia on May 11 resulted in a Danny Mwanga goal and two points dropped for the team. Focus for the entire 90 minutes will be a priority for Bruce Arena's squad.
Chivas USA:
Chivas USA's defense had been solid of late, but to go from shutouts to surrendering two goals to New York, even with the win, could be worrisome to coach Robin Fraser. Fraser had worked hard with his defense to keep them organized and make the backline one of the toughest to break down in MLS.
Tactics

Los Angeles:
The Galaxy employ a standard but dangerous 4-4-2. Juninho's strong presence in front of the back line gives Beckham the freedom to roam and exploit space in opposing defenses, and Donovan's diagonal cuts from the wing pose a constant threat. Omar Gonzalez and A.J. De La Garza have formed a solid, if unspectacular partnership in central defense, allowing Sean Franklin and Todd Dunivant to get forward and put crosses into the box.
Chivas USA:
More than ever, Chivas USA's attack will be geared towards feeding Braun the ball. This might open things up for one of Chivas USA's attackers who has yet to break out.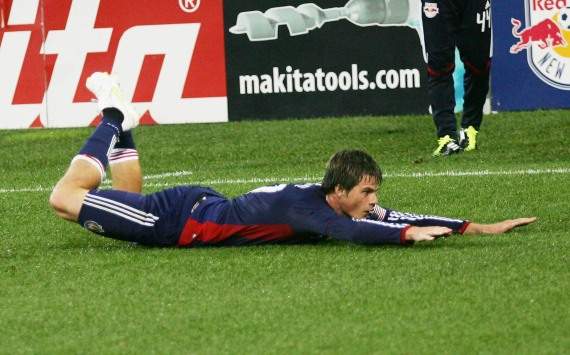 Braun has burst out with goals of late
Los Angeles:
The Galaxy are riding high after putting together their most complete game of the season, and a full week of rest will help aging stalwarts Beckham and Angel to be at their best come Saturday.
Chivas USA:
Fraser isn't getting caught up in the derby showdown with Los Angeles, and that may be the right strategy, because the Galaxy have generally ruled the rivalry. Downplaying it may be the right way to go to prevent Chivas USA's younger players from getting nervous and making silly mistakes.
Outcome
Knowles Adkisson
: Derby games are never predictable, and Chivas comes into the game on a hot streak of its own, having shocked the powerhouse Red Bulls in a deserved 3-2 victory last weekend. The Galaxy are playing their best ball of the season, but expect a hard-fought game with lots of defense and a 2-2 draw.
Andrea Canales:
Chivas USA is full of confidence, but the Galaxy are a tough team, and won't overlook their rivals the way New York may have. A hard-fought 1-1 draw will be the outcome.
Keep updated with Major League Soccer by visiting Goal.com's MLS page and joining Goal.com's

page.