The Hoops look to recover on the road after last weekend's shock 4-1 home loss to Sporting Kansas City.
On Form
Chivas USA:
After giving up a goal that was quickly disallowed, Chivas USA's offense instantly fought back last week against Houston. After the Dynamo's disallowed goal, it was not a long wait for Marcos Mondaini, as he scored just seven minutes into the game. The Argentine forward now has two goals in as many games. Even in the scorching heat, the Chivas offense repeatedly pressured the Dynamo defense throughout the night. Were it not for a later own goal, the club would have returned home with a crucial point in a draw.
FC Dallas:
Coming off of a 4-1 loss, it is tough to create a list of positives. However, one moment did stand out. Brek Shea's hair looked great as usual, not to mention the goal he scored in the 32nd minute was a thing of beauty. Shea dribbled past multiple Sporting Kansas City defenders on his way to the net. This was only the second game FC Dallas has ever lost in which Shea scored a goal.
Off Target
Chivas USA:
The set-piece defense allowed both goals against the Dynamo, and had a few lapses in the previous game against Portland as well. Were it not for a stellar effort from keeper Dan Kennedy, Chivas could be looking five game winless streak. After going ahead early against Houston, the defense made too many mistakes against a tough team that always plays better at home.
FC Dallas:
Coming off a draw in the opening of its new stadium, Sporting Kansas City looked much better on the road in a 4-1 win at FC Dallas on Sunday. The Hoops could not keep up with the energy of the SKC club. While it's going to be tough for any goalie to stop a shot like Graham Zusi made on the free kick in the 55th minute, Kevin Hartman was out of position quite a few other times throughout the match.
Tactics
Chivas USA:
Don't expect a change from the 4-4-2 formation for this game. Dallas' defense has looked vulnerable as of late, so look for Mondaini to capitalize. Justin Braun should be back in the starting lineup this week.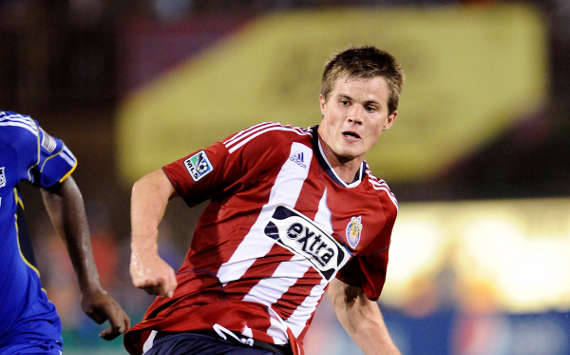 Braun | Hat-trick at Red Bull Arena is still his only three goals of 2011.
FC Dallas: Both teams played a week ago, so there should be no stamina issues to speak of. Playing in much cooler temperatures, however, should benefit FC Dallas. With a week of full rest and practice, the Hoops should be able to plug the holes that plagued them in their most recent match. Both teams bring a similar 4-4-2 formation, so scoring opportunities should not be hard to come by.
Intangibles
Chivas USA: Justin Braun has not scored since his outstanding hat trick performance against New York over a month ago. If he returns to last year's form, and teams up with the surging Marcos Mondaini, Chivas could make a playoff push this season.
FC Dallas: FC Dallas and Chivas USA are two of three teams to not lose any players due to the ongoing Gold Cup tournament. While scoring averages have lowered this year, FC Dallas has not been shut out in nearly a month, and only has been shut out four times this season. Even without reigning MLS MVP David Ferreira, with an always improving attacking midfielder in Shea, FC Dallas is threatening to close the gap behind the first place LA Galaxy
Prediction
Bryan Robison:
Look for FC Dallas to avenge last week's poor effort, and come out strong against an average defense in Chivas USA. FC Dallas pulls out the road win 2-1.
For more on Major League Soccer, visit Goal.com's MLS page and join Goal.com USA's Facebook fan page!